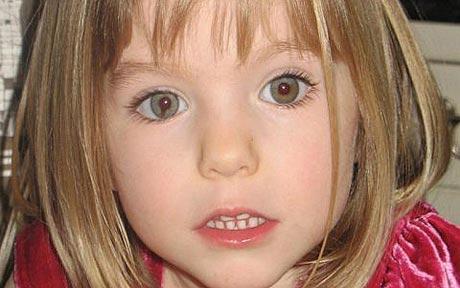 MADELEINE MCCANN: More than 50 sightings are contained in a 2,000-page police document
DRAMATIC new leads in the hunt for Madeleine McCann can be made public for the first time today.

More than 50 sightings stretching from Europe to the US, Hong Kong and New Zealand are contained in a disturbing 2,000-page police document in Portugal.
Much of the information – witness statements, photographs and tip- offs – has not been investigated by Portuguese authorities who have branded it "irrelevant." Instead the files have been gathering dust in police archives in Portimao.
The file includes astonishing CCTV footage from New Zealand showing a girl identical to Madeleine and highlighted by a security guard.
The previously unseen images were sent to the Portuguese police by Interpol in Wellington in July 2008, just as they closed their investigation. A female security guard at a supermarket in Dunedin, on South Island, thought she saw Madeleine on December 6, 2007.
When she approached the group with her, the youngster who had a British accent was led away by the hand by a portly man. Attempts to identify the people in the images failed and the information was passed to the Portuguese. However a hand-written note on the file said: "This has been checked by PJ and has no relevance to this investigation."
A Leicestershire Police report also told of a British national named George seen dragging a young girl along a road towards Faro airport on the night Madeleine disappeared. The Briton was tracked to an address in Praia da Luz but was not interviewed by police.
And the dossier also contains information about a British van that crossed to Morocco from Spain in the days after the child vanished.
Police traced every British and Portuguese vehicle that travelled on the ferry between Tarifa to Tangiers between May 1 and 10 2007.
They found one – a white Mercedes box van driven by a British man – had false plates. The route is commonly used by smugglers trafficking drugs, weapons and people from Africa to Europe and back again. Parents Kate and Gerry McCann were not told about the potentially crucial information until years after the possible sightings.
The couple, both 41, from Rothley, Leics, were horrified when they learned last month that Portuguese police had not acted on the new information. The secret dossier was only released following an official request to the state prosecutor in the regional police HQ in Portimao.

A source close to the McCanns said: "They are extremely angry that this file has been sitting in an office collecting dust. Quite frankly it's an outrage and a disgrace." Their spokesman Clarence Mitchell added: "They are incredibly frustrated that this was sitting there and being disregarded by the Portuguese police."
"They were shocked when they saw the scale of the information that had come in and the lack of action taken. There are potential leads in the file that are now being followed up by our investigators."
"It's more than a pity that the file has just sat there for so long and simply marked 'not relevant' by the Portuguese. There are also images in the file that are strikingly similar to Madeleine and are being looked into."

Other sightings in the files include a dramatic account of a distressed blonde girl being held at gunpoint by a half-naked man in France.
French lorry driver Michel Guidard told how he saw a youngster like Madeleine wearing a dirty yellow jumper but naked from the waist down at a toll on the A20 motorway near Paris in August 2008. When the driver went to confront him the man pulled out a handgun and threatened him.

Other new leads include a sighting in Marrakesh, Morocco, two weeks after Madeleine went missing. Witnesses contacted police with reports from Gibraltar, Madeira, Turkey, Italy and France in the weeks and months after she vanished.
A girl wearing pyjamas similar to hers was spotted near the Spanish city of Murcia in May 2007. She was with an unkempt Spanish man at a run-down house, the files show. And holidaymakers in Albufeira, Portugal, told how they saw a girl like Madeleine with a group of gypsies in July 2008. When approached by police the black-haired woman holding the girl ran off.
Madeleine was almost four when she vanished from the family's holiday apartment in Praia da Luz, Algarve, on May 3, 2007, while her parents were having dinner with friends at a restaurant nearby.