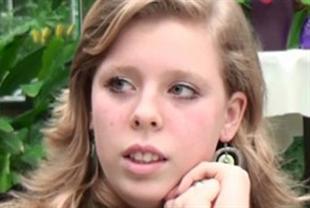 Milly Boele was murdered by a police officer.
A 12-year-old Dutch girl whose disappearance last week sparked a massive "Maddie-style" hunt throughout the Netherlands was actually murdered by a policeman and buried metres from her own home.
The 26-year-old policeman yesterday admitted to killing schoolgirl Milly Boele, who lived with her family a few doors down from him in the southern city of Dordrecht.
Policeman Sander V, who according to Dutch legal tradition has been identified only by his first name and initial, walked to the police station and gave himself up.
He reportedly admitted to killing Milly and burying her in his backyard, and police subsequently dug up her body. A motive has not been released, and it is not yet known if the girl was sexually assaulted.
A nationwide search for Milly had been undertaken after she broke off a phone call to her mother last Wednesday to answer the door.
She had not been seen since, and thousands of flyers were posted along roadsides and at Schiphol international airport.
Online forums dedicated to finding missing UK girl Madeleine McCann took on the "Milly" cause, convinced the Dutch girl had been abducted.
Three-year-old Madeleine disappeared in Portugal while on holiday with her parents in 2007