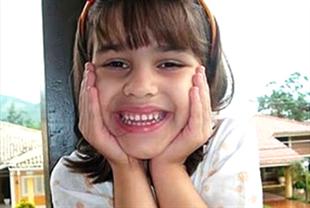 Isabella Nardoni.
A Brazilian couple have been jailed for strangling their five-year-old daughter and throwing her from the window of their sixth-floor apartment building, in a case that has transfixed the country.
The investigation into the death of Isabella Nardoni, whose body was found on March 29, 2008, has been breathlessly followed by the media in the South American nation.
Her father Alexandre Nardoni and stepmother Anna Carolina Jatobe both claimed that an intruder was responsible for the death of the five-year-old.
But the prosecution found it was impossible that Nardoni and Jatobe were not in their apartment at the time of the murder, offering phone records and data from their car's GPS.
After a five-day deliberation, jurors found both of the accused guilty of the crime, Globo news agency reported.
The public fascination with the death of Isabella Nardoni has been likened to the disappearance of Madeleine McCann in the UK and the OJ Simpson trial in the US, with a poll showing 98 percent of Brazilians were aware of the case.
The interest in Isabella's death is unusual for a country where 45,000 people are murdered each year.
Nardoni was sentenced to 31 years behind bars, while Jatobe will serve a 26 year sentence.