TV bosses cut the clip from later bulletins on 4 May, 2009, after shocked viewers called police.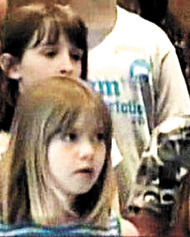 ABOVE: A girl in a singathon sparked hope that Madeleine McCann was alive in Canada / Iconimaging Ltd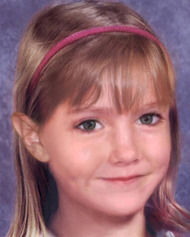 ABOVE: How Madeleine McCann might look today
Detectives seized the footage and filed it among 2,000 pages of evidence, which have been archived since the case was shelved by Portugual's law chiefs in July 2008.
The DVD, gathering dust on a police HQ shelf, was unveiled this week after the Daily Star made an application to the state prosecutor. Police did not trace the girl, one of thousands of schoolkids taking part in Canada's nationwide synchronised singathon. Immediately after the event was broadcast a woman from Toronto, convinced it was Maddie, phoned in 'very upset and crying''.
Madeleine, who disappeared from a Portuguese holiday apartment on May 3, 2007 ' days short of her fourth birthday ' would have been nearly six. Her doctor parents Kate and Gerry, both 41, had just released a new image (pictured above) showing how she would have looked. It is one of hundreds of ignored leads since police gave up.
Another was a Norwegian holidaymaker claiming he saw Madeleine begging for help at the Landzeit Hotel in St Valentin, Austria, three months after her disappearance.
The man and his wife were dining when a young girl on the arm of a man walked past their table and said: 'Help me!''
Police checked the hotel's database but had no joy.


Yesterday we revealed the McCanns' private investigators are probing the possibility she was held in an orange grove shack by 'gipsy'' child-snatchers in Silves, 30 miles from Praia Da Luz, Algarve. But a cleaner and teacher deny any involvement.


The case files reveal detectives ignored UK police warnings about a suspicious British worker, in his 30s, at a sister resort to the Ocean Club, where Madeleine disappeared.


They urged them to investigate after a holidaymaker accused him of inappropriate sexual behaviour after going into their nine-year-old daughter's room. Last night New Zealand police said they had traced the Maddie lookalike caught on a Dunedin supermarket's CCTV in 2007. Insp Dave Campbell ruled out any link.