Sightings in the file came from across Europe and even America and Hong Kong. Here is a sample:
A little girl who looked like Maddie was seen with a shirtless man near a toll on the A20 motorway in France on August 30, 2008.
French lorry driver Michel Guidard said the girl was wearing a dirty yellow jumper but was naked from the waist down.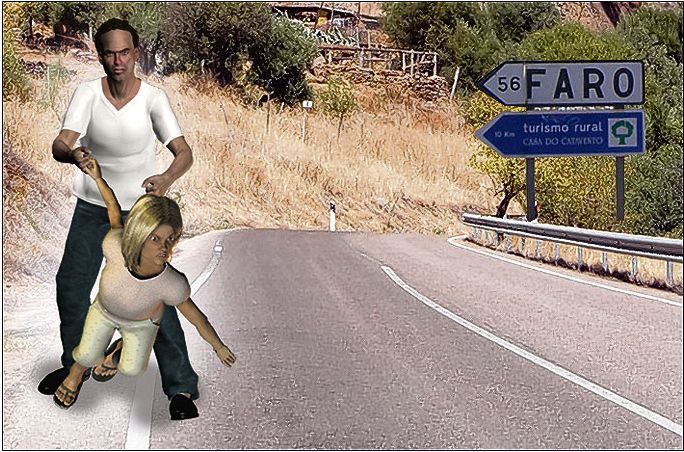 Dragged to airport ... our recreation of the sighting of a child like Maddie being forced
along the road to Faro airport in Portugal on the night she disappeared 60 miles away
He stopped and approached - but the man pulled out a handgun and threatened him.
A British man called George reported seeing a small blonde, distressed girl being dragged along the road to Faro airport, Portugal, on the night she went missing.
That is 60 miles away from the resort of Praia da Luz where Maddie and her family were staying.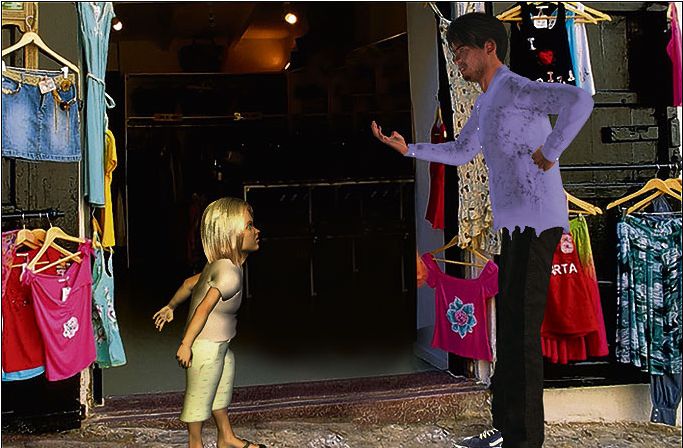 'Little elf' in pyjama top ... a witness described a scene like this near Murcia, Spain, just
12 days after Madeleine vanished in 2007. A scruffy man orders a lookalike from a shop
A girl described as "a little elf" - in a pyjama top like the one Maddie had on when she was taken - was spotted being "summoned" from a shop near Murcia, Spain, by an "unkempt" man 12 days later.
In August 2008, a woman reported a Newcastle man acting suspiciously in Villamoura, 50 miles from Praia da Luz.
She says the man, who she also saw in May 2006, took pictures of her children.
In July 2008, a Scottish mum reported seeing a blonde girl who looked like Madeleine in Albufeira, Portugal, with a group of gipsies.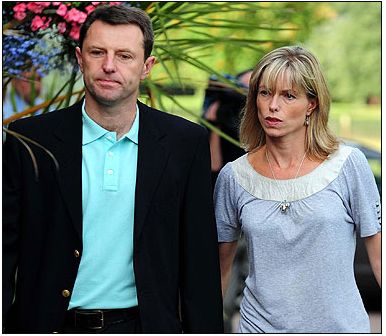 Never shown documents ... Gerry and Kate McCann
A dark-haired woman with the girl ran off down a hill with her when police turned up.
That month alone, three other sightings were reported - two in France and one in Turkey.
A sighting of a girl in Frankfurt, Germany, even included the car registration number of a suspect.
A sighting in Algeria in September 2008 said a little girl with a British accent was with a family who behaved suspiciously.
The dossier says a British-registered white Mercedes box van with fake number plates travelled to Tangiers, Morocco, from Tarifa, Spain, between May 1 and May 10, 2007. It has never been found.
The McCanns believe Maddie could have been whisked away to Morocco by child traffickers within hours of her being taken.
In June 2008 in Sorrento, Italy, a British holidaymaker said he saw a girl like Maddie in the window of a building with a bricked-up door.
A report from Spokane, Washington State, USA, said a girl like Maddie was seen on October 9, 2008, with a Portuguese man.
According to an informant, he ran a child trafficking operation.
Chillingly, the file also contains information sent by Lieutenant Emilie Moreau of the French police about a photo of a little girl being sexually abused on a website.
She told the Portuguese: "We think the girl looks like Maddie."
Inspector Paiva replied: "There is nothing relevant. The girl does not physically resemble Madeleine."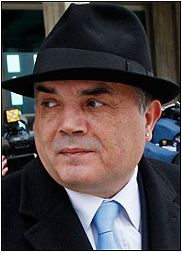 Court case ... Goncalo Amaral
Another report of a child like Maddie being abused on the internet came from Italy.
The reports were put away in a file collated at Portimao Police Headquarters by Inspector Ricardo Paiva, the McCanns' liaison officer, after the case was shelved in July 2008.
Kate and Gerry, both 41, only learnt the buried file existed when it was referred to during their recent court case against ex-police boss Goncalo Amaral in Lisbon.

Amaral, who headed the initial investigation into Maddie's disappearance wrote a book, claiming Maddie was dead and her parents lied about her abduction.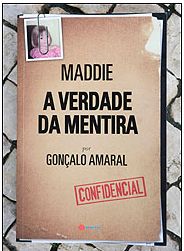 Book ... written by Amaral
The couple, from Rothley, Leicestershire, won a ban on the book. Their lawyer Isabel Duarte then applied for a copy of the dossier.
And after studying it, she told us: "It is a disgrace that none of this information was given to Kate and Gerry.
"Some of the photos are shockingly similar to Madeleine."
Angry Gerry said recently of the filed treasure trove of leads: "We're gutted. If you don't investigate information, you won't solve it."
Yesterday a source close to the McCanns said: "They are extremely angry that this file has been sitting in an office collecting dust. It's an outrage and a disgrace."
Spokesman Clarence Mitchell added: "They're incredibly frustrated this file was sitting there being disregarded by the Portuguese police.
"They were shocked when they saw the scale of the information and the lack of action taken.
"There are potential leads in the file that are now being followed up by our own investigators."