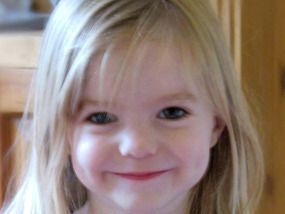 Madeleine McCann went missing on May 3, 2007
THE top investigator working for Kate and Gerry McCann is considering releasing a new image of the man suspected of abducting their daughter Madeleine.
Former Detective Inspector Dave Edgar travelled to Portugal last week to show the e-fit style image to a new witness.
Portuguese Carlos Moreira, 65, has just come forward to say he saw a girl aged about four lying drowsily on a pile of clothes in the back of a white van.
It happened the day after Madeleine vanished from her holiday apartment in Praia da Luz on the Algarve on May 3, 2007.
Mr Moreira has confirmed the image bears a strong resemblance to the driver of the van, which was parked at a roadside snack bar 160 miles north of the resort.