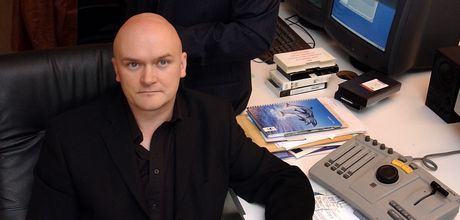 Alistair Houghton meets JON CORNER, of Liverpool's River Media
THE World Expo in Shanghai is not just a massive showcase for Liverpool – it will also take River Media's work to an audience of millions.
The company, led by creative director Jon Corner, has made 80 films that will be shown at Liverpool's Shanghai pavilion. They include a spectacular introductory 3-D film, featuring a Chinese dragon and a Liver Bird soaring above Liverpool.
It's the biggest project yet for River and proud Liverpudlian Corner has enjoyed the "cultural challenge" of taking the wonders of his home city to a Chinese audience.
Many of River's Shanghai films use Liverpudlian Chinese speakers to give the Shanghai audience an audio surprise.
"The idea is that they will hear Mandarin coming at them with our accent," said Corner.
"We had a focus group of Chinese people from the North West and they gave us some great ideas and some great approaches we could take. This was one of their suggestions – they like to hear English people having a go at Chinese.
"We have used one amazing lad called Barry Cox, who's a pop singer in China. He's a classic cheeky Scouser, but he's fluent in Chinese."
With millions of visitors milling around an Expo site that is larger than Liverpool city centre, every pavilion will need to stand out.
Corner says his aim has been to create films that "get people talking and wanting to know more about Liverpool and the North West".
Visitors will be greeted by a video message from Sir Paul McCartney before heading into a theatre for the first 3-D film.
"The film sets the scene for what an iconic and exciting city we are," said Corner.
River's other films will be on display throughout the pavilion, whether on huge plasma TV screens or on smaller touch- screens where visitors can find more information on Liverpool.
Those films cover subjects from Liverpool's musical history to biochemistry and wealth management, and are aimed at potential tourists and investors alike.
River has been working on the films since October.
"It's been great fun and a great challenge," said Corner. "We were delighted to win this contract and we've risen to the challenge. The timetable was always a challenge, but it's meant we've had to work smarter."
The 3-D element of the project created its own challenges for River's team.
Corner said: "When you make a 3-D film, you've got to make one film for the right eye and one for the left eye. You converge them to get a 3-D effect.
"It's one film but you need two cameras and two sets of post-production work. It's a technical challenge."
The 3-D films created files so enormous and needing such processing power that River teamed up with Liverpool-based Render Nation, which boasts a "farm" of hundreds of computers to allow it to process 3-D images.
"Just one scene with three flowers took over 100 computers three days to process," said Corner. "Every petal has got to be rendered twice so they're coming at you in 3-D."
River's work on the Shanghai project saw Corner work closely with Liverpool Vision and, earlier this year, Corner joined the regeneration body's board.
He said: "I wanted to be involved with an organisation that was working to make sure the success we are seeing in Liverpool goes to the next stage.
"I want to make sure Liverpool gets better and better."
Corner spent 15 years as a music producer at a time when the industry was grappling with new digital recording techniques – a challenge which taught him the importance of staying on the cutting edge of innovation.
He worked at Advision, then one of the West End's most famous studios, and worked with bands including the Pet Shop Boys and New Order – and Italian chart-topper Pino Daniele.
"It was a very exciting work – it was the place in London," he said.
He also began giving guest talks at universities, which made him realise that he could make a career in the education sector.
In the mid-90s, Corner came back to his home town to settle.
"I came back because of my family, really," he said. "I wanted my kids to grow up in the city.
"Plus, Liverpool had changed. By the late 90s, we were well on our journey, our renaissance."
Corner became a senior lecturer at Knowsley College. He co-founded River Media in 1998 as a "hobby" and to focus on visual art installations but, as he built up a relationship with Sony, he decided to go full-time with River.
The recession has slowed Corner's growth plans, but he is confident River has a bright future.
"I've got big plans and big ambitions," he said.
"We're involved in cutting-edge content for outdoor exhibitions – content for domes, cylindrical displays, international airports.
"We're looking at auto-stereo content – 3-D content for plasma screens you don't need glasses for."
River is also working on an introductory film for the new Museum of Liverpool.
Education is still close to Corner's heart, and he is keen to ensure that schools and colleges are turning out young people with the skills needed to work in the creative industries.
He works with the NWDA to mentor graduates from Salford and Liverpool John Moores universities, and is on the board of North Liverpool Academy.
He is also a member of the governing council at Salford University, and is chairman for the executive committee of the university's MediaCity campus.
Corner worked on Salford's bid to attract the BBC to the North West, and is an evangelist for the £500m MediaCity project and what it could mean for Mersey creatives.
"It's going to be hugely beneficial to the city," he said. "It's a tremendous opportunity for the talent pool in Liverpool to exploit what's on offer at MediaCity.
"We will see activity there exploding over the next five years.
"For Liverpool, there's a tremendous long-term opportunity for us to provide the talent pool that MediaCity is going to require."
Corner stresses that technical skills will be as much in demand as creative ones.
"People think they need to be directors or cameramen," he said. "But they won't be the jobs on offer at MediaCity. The jobs there might be in systems management, project management, or intellectual property work.
"This is Liverpool's chance to be seen as a talent pool."
Corner is a family friend of Kate and Gerry McCann, whose daughter, Madeleine, is still missing three years after she vanished in Portugal.
He has produced videos for the family to keep their campaign to find Madeleine in the public eye – including one film released this month to mark the third anniversary of her disappearance.
He said: "I'm working with Kate and Gerry to keep the message out there that there's a little girl we need to find."
TO HELP the McCann family's search for Madeleine, visit www.findmadeleine.com