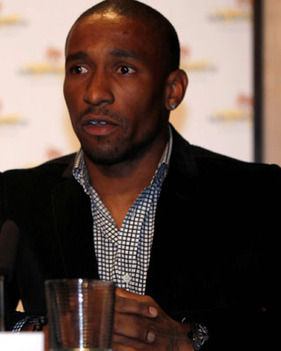 ABOVE: Jermain Defoe pays tribute to Jimmy Mizen as he admits he saw his brother die
DISTRAUGHT Jermain Defoe told yesterday how he saw his brother die, and paid tribute to murdered teen
Jimmy Mizen.

The England star opened his heart about his family tragedy as he backed an anti-violence campaign.
GMTV's Ben Shephard, 35, joined Jermain and the 16-year-old knife victim's parents to launch the "Reclaim Our Children" push on the second anniversary of Jimmy's death.

Jermain, 27, told how brother Jade's skull was smashed in a brawl and said: "The manager called me over and said: 'Your mum is in the car park.'

"She said: 'Your brother has got two hours to live. You have to go to the hospital.'
"I was at his bedside and he passed away two or three hours later. "It was incredibly hard for the whole family."

Jermain backed the campaign featuring 10 dramas for schools about violence.
The Spurs striker, who appears in one, said: "I just want to stop the violence. The kids seem to be getting younger, with 13 and 14-year-olds carrying guns"

Jimmy's mother Margaret, 57, and father Barry, 58, whose son was killed in south London, called for political leaders to combat the violence "epidemic".

Prince Charles, 61, and Kate McCann '42, mother of missing Madeleine, later attended a "service of peace" at Westminster Cathedral.