Sex crimes committed by two boys from his school moved Evan Placey to write a very Jewish play.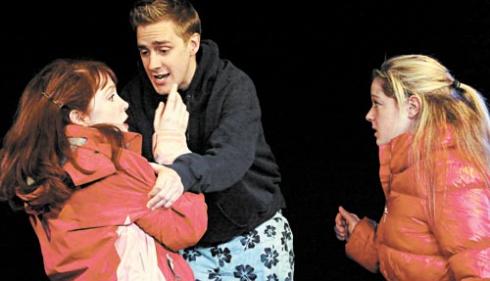 Madeleine Potter struggles with Tom Golding as Jennifer Thompson looks on in Mother of Him
What does it take for a mother to stop loving her son? Or what does it take for a mother to hate him? These, in essence, are the questions at the heart of 26-year-old Evan Placey's new play, Mother of Him, which is running at the Courtyard Theatre in north London.
They occurred to Placey after he heard about the terrifying events that took place in the early morning of September 7 2007 when two female students were raped on the campus of York University in Placey's home town of Toronto. It was on that night that two Jewish men in their twenties, Daniel Katnelson and his friend Justin Connort, roamed the corridors of the university's halls of residence. They were looking for unlocked doors to rooms occupied by lone female students. Their first victim was a 17-year-old girl. Katnelson raped her and then took pictures with his mobile phone of Connort sexually assaulting her.
The men then continued to roam the halls until they found their second victim. She was 18 and a virgin. "Do you want to get lucky with a couple of Jewish guys?", Katnelson asked one of the victims. The story broke just after Placey had returned to London after visiting Toronto for his sister's wedding.
"There was a big thing in the Toronto media warning everyone to be vigilant," he recalls. "And then the boys came forward and it turned out that one of them - Connort - was a family friend of mine when we were kids. I'd seen his ma at my sister's wedding. And Katnelson went to the same primary school as me, although he was a year older."
Later, as Placey wrote his fictional play based on these real events, another story hit the headlines. Madeleine McCann had gone missing. The abducted toddler's mother, Kate, became the most famous woman in the country and Placey noticed that the reaction of the media in both Canada and the UK placed the morality of the mothers at the centre of the story. "Connort was put under house arrest before he was sentenced. And I thought: 'What in God's name is his mum saying while trapped with her son in this house?'"
Katnelson and Connort were in their mid-20s when they committed their crimes (last April, Katnelson was sentenced to eight years in prison and Connort to three), but the rapist in Placey's play is a 17-year-old called Matthew, played by Tom Golding.
"That made it more interesting in a legal sense," says Placey. "It meant that Matthew could be sentenced as a child because he was not quite 18. But the play is not so much about the degree to which Matthew is responsible, but how responsible he is from the point of view of the mother. Does she believe he was responsible? And if not, is she therefore also guilty for standing by her son? It's about the mother's journey."
The play is neatly framed by Chanucah. The mother Brenda (played by American actor Madeleine Potter) is a single parent who attempts to retain some semblance of Jewish life in a household besieged by reporters. While the journalists wait for mother and son to show their faces, inside the house Brenda and her boys light Chanucah candles.
"I think her Jewishness, however secular, is what she clings - or is forced to cling on to, as everything else falls apart around her," explains Placey. "The setting up and lighting of the Chanucah candles is the only normal thing left, and the only thing she knows which doesn't change. I was particularly interested in Chanucah as a time for celebration, for family - something which Brenda becomes isolated from and wants to be far away from at times."
Placey also sees a parallel between the festival lights and the lights of the TV cameras encamped outside the house. As each day of Chanucah passes, the pressure from outside the house becomes more intense. Brenda cannot buy a bottle of milk without journalists' questions being fired at her. The radio and TV is full of chat-show talk about the crime. Is Brenda the underlying reason behind the rape? Did it happen because she's a single parent and Matthew has no male mentor? A consensus seems to be forming - that a mother's place is in the wrong. Even a Jewish mother.
While Placey was writing the play, the hysteria surrounding Kate McCann, and the theory that she was in some way responsible for the disappearance of her daughter, was reaching its height.
"What was happening to Kate McCann definitely affected the play," says Placey, a graduate form north London's Central School of Speech and Drama. "I think there are pressures we put on mothers that fathers don't have to face. And as a young writer, I haven't seen many strong roles for women. I was interested in writing about a mother being challenged."
Placey lives in Brockley, south London, and grew up in what he calls a liberal, secular Jewish family in Toronto. His mother is a retired special-needs teacher, his father, an accountant. When he was younger Placey used to volunteer to help out in his mother's classes. The experience gave him early insights into what it is to be an adult responsible for difficult children.
If on one level Mother of Him, is mostly the result of real events connected to Placey's life, the play also serves to challenge some of the attitudes towards Katnelson and Connort which he heard voiced by Toronto's Jewish community - attitudes which may well have been mirrored by the Jewish community here. "There was some things I kept hearing a lot," he says. "One of them was: 'But he was such a nice Jewish boy.' It was this idea that some men are rapists, but Jewish boys, from good Jewish families, are not."
'Mother of Him' is at the Courtyard Theatre until July 4. Tel: 0844 477 100