The purpose of this site is for information and a record of Gerry McCann's Blog Archives. As most people will appreciate GM deleted all past blogs from the official website. Hopefully this Archive will be helpful to anyone who is interested in Justice for Madeleine Beth McCann. Many Thanks, Pamalam
Note: This site does not belong to the McCanns. It belongs to Pamalam. If you wish to contact the McCanns directly, please use the contact/email details campaign@findmadeleine.com
McCanns To Work With Child Campaigners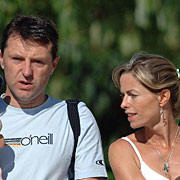 The McCanns remain in Portugal
Madeleine McCann's parents plan to work with child welfare agencies in Europe to campaign against child abduction and exploitation.

The McCanns are still living near Praia da Luz in Portugal where Madeleine was last seen.

They will meet child welfare agencies in Lisbon soon to discuss how they can be involved in campaigning.

"We hope the huge amount of goodwill that has been generated following Madeleine's abduction can be translated into tangible benefits for the future." said Madeleine's father Gerry McCann.

"We very much want to work with the organisations trying to prevent child abduction and expoitation".

The McCanns also revealed that the release of kidnapped BBC journalist Alan Johnston on Wednesday gave them a psychological lift. Mr Johnston was held in Gaza for almost four months until he was freed unharmed by his captives.

Mr McCann said: "Although the circumstances of his kidnapping are very different to that of Madeleine's, it still lifted us to see him being freed knowing he will be reunited with his family.

"We also agree with the commentators who have stated his family have acted with tremendous dignity throughout and Alan himself appeared incredibly resilient and composed following his release. Our best wishes go to Alan and his family."

The couple have also had meetings with the England rugby team who wore Find Madeleine T-shirts during a training session in Portugal this week.

"We wanted to thank them for this unprompted show of support which helps keep Madeleine's disappearance high profile here in Portugal and at home," Mr McCann said.

TO HELP KEEP THIS SITE ON LINE CONSIDER