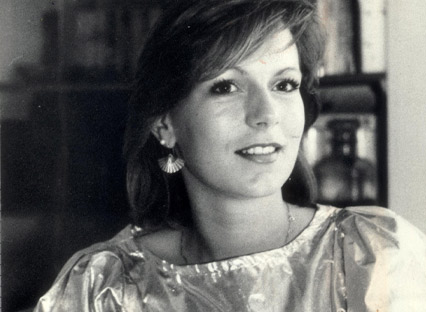 Police search army barracks 24 years after the young estate agent went missing
Detectives investigating the disappearance 24 years ago of estate agent Suzy Lamplugh are to begin a new hunt for her body in Worcestershire after a tip-off. They will search the disused Norton army barracks near Pershore after a potential witness claimed he saw a mound of earth there around the time she vanished.
Lamplugh went missing in 1986 after leaving her offices in Fulham, west London, to meet a client listed as 'Mr Kipper' in her diary. Her car was later discovered in west London with the doors unlocked, the handbrake off and the ignition keys missing. Her purse, still containing £15, was in the pocket of the driver's door.

The 25-year-old's disappearance became one of the great mysteries of the 1980s and dominated the media at the time. Her face (above) was known by everyone who watched TV or read the papers – rather like Madeleine McCann's was following her disappearance in 2007.

Thousands of lines of inquiry have been pursued since Suzy Lamplugh went missing, and DNA tests were carried out on 800 unidentified bodies in the aftermath of her disappearance. But there was no breakthrough and the case was first closed in October 1987. She was officially declared dead in 1994 but the file has remained open and in 2000 the investigation was officially reopened.

Late that year officers conducted a fingertip search of the same area in Norton that they have now returned to. This time they will use ground-penetrating radar in their hunt for Lamplugh's body.

Police have admitted that they missed "significant opportunities" in the original inquiry, which could have resulted in a prosecution years ago. After the latest announcement Scotland Yard said: "The [Metropolitan police] remains committed to solving the Suzy Lamplugh case and we will continue to work towards this end. We will follow up any information in relation to this case."

John Cannan, a convicted murderer and rapist from Sutton Coldfield, West Midlands, was named as the prime suspect in the investigation and was questioned by police when the case was reopened. But in 2002 the Crown Prosecution Service said they did not have enough evidence to charge him.

The name of Ipswich prostitute murderer, Steve Wright, also became linked to the case when it transpired that he and Lamplugh had both worked on the QE2 in the early 1980s and were acquainted.

Lamplugh's disappearance led to the foundation of the Suzy Lamplugh Trust, which was set up by her mother Diana to raise public awareness on personal safety issues.
Her father, Paul, now 79, said: "The police have kept me fully informed and I look forward to further information with interest."
Filed under: Suzy Lamplugh