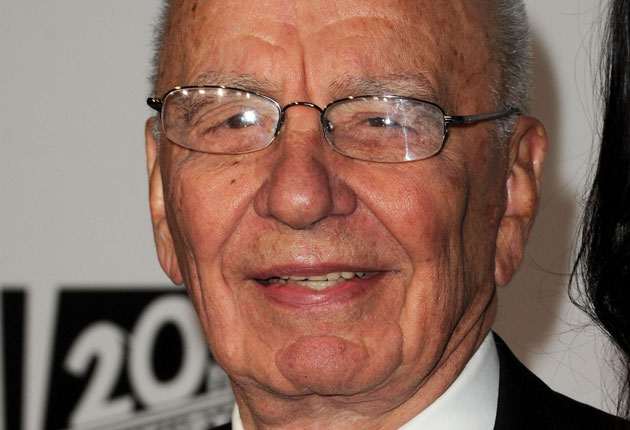 Rupert Murdoch seems angry, and on Friday was also reported to be 'depressed'
'Toothless' press watchdog is in politicians' sights as pressure mounts for crack down on journalistic practices.
Scotland Yard will this week demand more emails from the News of the World as part of a fresh investigation into phone-hacking allegations. The move comes as it was revealed that police are investigating claims of more recent hacking.
It also emerged that the coalition government has lost confidence in the Press Complaints Commission and is moving to crack down on unlawful journalistic practices.
The Metropolitan Police reopened the investigation after a "limited" number of emails were handed over by the News of the World. This followed a "crisis visit" to London by News International's owner Rupert Murdoch to order executives to end the damage being inflicted on the company.

Legal sources familiar with the emails handed over described them as "very significant", saying they suggested Ian Edmondson, the executive sacked by News International last week, was aware that phone-hacking was going on. The emails were handed over after the company brought in the law firm Burton Copeland to advise it. Police are expected to request more emails this week.

Crown Prosecution sources familiar with the case said: "We should have had this stuff three years ago. Any keyword search would have produced these documents. We shall be asking why we didn't have it before."

A prosecutor said police and lawyers were angry that News International had failed in its duty to co-operate with their investigations.

Detectives are understood to be working under a wider interpretation of the phone-hacking law. Three years ago David Perry, QC, advised the initial investigation that if intercepted phone messages had already been heard by its intended recipient, then listening in wasn't a crime. However the DPP's new interpretation is broader.

Following the IoS's revelation last week that Tony Blair had asked the police to investigate phone hacking, political pressure has mounted. It emerged last night that the coalition is to tighten up on the activities of newspapers in the wake of the saga.
The Liberal Democrat minister Lord Wallace told peers last week that the role of Press Complaints Commission and the strength of its code of practice needed to be addressed. "While the Government believe that a press free of state intervention is fundamental to our democracy, there is no place for illegal activity," he said.
Government sources said last night that ministers had lost confidence in the regulator's ability to protect the public from journalistic harassment and illegal activity. They are already discussing changes including a tighter code of conduct, stiffer penalties for those who breach it ' and even statutory interventions.
The PCC, an independent body which deals with complaints against the industry, has faced severe criticism over its response to the hacking scandal. An independent report by the International Federation of Journalists last year found the PCC's actions had "weakened its credibility" and "revealed major failings in its ways of operating".
A senior Government source said the coalition was committed to self-regulation in the media but added: "We are no longer convinced the PCC is capable of carrying out this function. It's a pretty toothless outfit and we are going to have to do something about it."
The proposed shake-up in media regulation would only take place once the official phone-hacking investigation is completed. But it has already opened up divisions between the Conservatives and the Liberal Democrats, who complain that their coalition partners are unwilling to take on "big news corporations".
Three further groups of possible litigants came to light yesterday. Scottish police are investigating fresh hacking allegations in connection with the Tommy Sheridan perjury trial. Sheridan's lawyer Aamer Anwar has reported "current hacking" to the police after being notified by Vodafone of attempts to hack his mobile. Solicitor Mark Lewis confirmed he was advising. "Investigations are currently underway and court orders will be sought," he said last night. He also confirmed that the former England football manager Sven-Goran Eriksson had asked him to investigate whether his phone had been hacked.

It has also emerged that Gerry and Kate McCann have consulted layers in connection with the possible hacking of their phone in the days following their daughter Madeleine's disappearance in Portugal.

Q&A: Phone-hacking scandal
Is Rupert Murdoch really angry, or is this just a ploy?
He certainly seems angry, and on Friday was also reported to be "depressed". At a crucial time for his megabucks bid for BSkyB, he and his company have been humiliated. Murdoch is understood to have told David Cameron, who was concerned about controversy involving his media chief Andy Coulson, that police had got to the bottom of the phone-hacking allegations and that the affair was politically motivated by his enemies. Yet recent events have undermined that claim. Even Murdoch's fiercest enemies would not accuse him of knowingly telling an untruth, so he is entitled to wonder where things went wrong. A friend of Murdoch reports that only in the past few weeks has he been fully apprised of the situation and, understandably, he is angry. That is why the journalist Ian Edmondson, previously suspended pending a News International inquiry, was sacked last week.

So is that the end of it?
Far from it. He has effectively thrown a petrol bomb into the fireworks factory. Where before News international's senior people sought control of the situation, Murdoch's anger may have relinquished it. Last week the News of the World, under advice from lawyers Burton Copeland, a leading criminal litigation firm, handed over some of Ian Edmondson's emails to the police, which they have described as very significant. Another prosecution source said they suspect it is "the tip of a very big iceberg". Edmondson is talking to the paper about a severance deal, but if he faces criminal charges he will be required to tell all. This could implicate a great many other people, some of them very senior. Those who know him well say he is unlikely to be willing to carry the can alone.

But they can't just wait and see what their ex-employee Edmondson does?
Murdoch has been a force for more openness than some of his senior consiglieri advised, but he still has a way to go if the stables are to be truly cleaned. It would be consistent with his style to take a proactive role and remove those whose behaviour has recently failed to impress him. As former Sunday Times editor Andrew Neil reported last week, one senior Times executive said: "They are willing to sack anyone who is guilty as long as their name isn't Murdoch."

So he really meant it when he said they had a zero-tolerance policy on wrongdoing?
Up to as point, yes, even if some in his own organisation, for reasons of their own, hoped he didn't. As someone close to the affair said: "Murdoch has not been well served by those around him. The absolutely shocking conduct of the News of the World ' not least in failing to release all their files on the matter three years ago ' has lost the confidence of everybody, and they are having to make these large payouts as a result." But the zero-tolerance claim faces a test over the New York Times revelation of the existence of a tape of Glenn Mulcaire, the private investigator jailed over the NoW phone hacking four years ago, instructing a journalist how to access someone's phone. Was ' or is? ? that (unnamed) journalist working for a News International company'

Where is the story going next?
The police are likely to ask to see all of Edmondson's emails, in addition to the "significant" ones they already have. This could incriminate a lot of people. There are also plenty of celebrities (and, shall we say, former celebrities) in the queue for payouts. How News International handles this will be a mark of its openness. If each celebrity claims, say, £30,000, the bill could be enormous. There are said to be thousands of names on Mulcaire's files, but as the police will tell you, in law that doesn't mean their phones were necessarily hacked. It is that doubt ' and the potential for embarrassing News International ' that some were seeking to exploit before last week. The Commons media committee is also talking about reopening its inquiries.

But why should we trust the police? Didn't their shortcomings effectively bury the matter last time?
The police have always said they would respond to any new evidence, and now, they say, they have it and are doing so. Their problem has been a lack of witnesses and a strict interpretation of what is required in order to prove that hacking has taken place. Having secured the conviction of journalist Clive Goodman and Mulcaire four years ago, they felt a message had been sent and their job done.

But what about the people they failed to investigate?
As John Yates admitted to the Commons media committee, they should have asked more about "Neville", whose name appeared on one of the documents unearthed by the police when they raided Mulcaire's office. The same would presumably go for the other names ("Ian" and "Greg") that have emerged recently. Those close to the original inquiry, led by Andy Hayman, a former assistant commissioner of the Met, say there was a lot of hearsay but little concrete evidence and little prospect of securing a conviction. Hayman himself wrote an article in The Times which said there were "only a handful" of victims. Critics say they had thousands of documents ? which have been emerging in the privately brought cases ? and they could have cleaned the whole thing up. They also say that a judge would never have given them permission to raid the NoW's emails. It would have been seen as a "fishing expedition" conducted on a whim. This time they appear to have more to go on, and know they have ground to make up.

Has David Cameron been damaged by this?
His office has been at pains to distance him from the story, even though he appointed Coulson ? who denies all knowledge of the hacking ? just months after his exit from the News of the World, and hung on to him until as recently as 10 days ago. They also offered guidance that when he dined with Rupert Murdoch's son James and News International's chief executive Rebekah Brooks over Christmas, they didn't discuss phone hacking or the BSkyB bid.
James Hanning