Deputy Hugh Whittow to replace him on mid-market title which, during Hill's tenure, ran front pages on Diana and the McCanns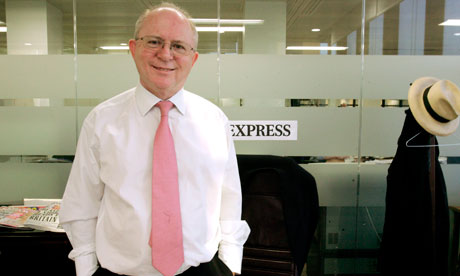 Peter Hill, who is standing down as editor of the Daily Express Photograph: Rex Features
Daily Express editor Peter Hill is leaving the paper after seven years at the helm.
He told staff that he is "looking forward to a break" and will be replaced by his deputy Hugh Whittow.
However he said he may write for the paper "some time in the future."
Before he became editor of the Daily Express in 2003 Hill was editor of the Daily Star, where he joined in 1978 and rose up through the ranks to become its editor in 1998.
Before joing the Daily Star, he worked on the People, Mirror, Daily Telegraph, Oldham Chronicle, Manchester Evening News, Huddersfield Examiner and the Colne Valley.

In an email to staff Hill said: "Sadly, I shall be leaving you soon. I have been editor of the Daily Express for seven years and, before that, editor of the Daily Star for five. I don't know about you, but I've had a fantastic time, but now I'm looking forward to a break and finding new things to do.

"You will be in good hands because Hugh Whittow will be taking over. I know that you will join me in wishing him hearty congratulations. It's a richly deserved promotion. I want to thank you all for your unstinting support, help and above all, friendship. I wish you all the very best and, of course, success to all the company's enterprises.
Yours ever, Peter."

Whittow is a former reporter on the now defunct London Evening News who moved to the Star and rival tabloid the Sun before returning to the Daily Star as deputy editor to Hill, who was then editing the tabloid - which is also owned by Desmond.
He moved over to the Daily Express shortly after Hill was appointed editor in December 2003. The resignation of Hill, who is approaching retirement age, brings an end to a long period of stability at the paper.

The mid-market title abandoned the Labour party before the 2005 general election, reprising its traditional role as a cheerleader for the Tories under Hill's editorship, although that decision owed much to the instincts of its proprietor Richard Desmond and could never have been taken without his permission.
Like nearly all newspapers, the Daily Express has seen its circulation fall during Hill's editorship, from just under one million to close to around 640,000, but it has a loyal core of readers.

Hill was famed for his short fuse on the newsroom floor, and reserved his most withering insult - "nincompoop" - for those he felt had performed particularly poorly. But he also enjoyed a reasonably good relationship with Desmond, the paper's mercurial owner.
A keen student of political history, Hill was fond of quoting political philosophers including Thomas Hobbes and Edmund Burke, and in recent years he often eschewed lunches in favour of taking long walks with contacts and senior editorial staff along the river Thames. He is particularly close to Whittow, the man who will replace him, according to insiders at the paper.

The Express during his tenure will also be remembered for an obsession with Princess Diana, once running a string of front-page stories about the late Princess over several months because it boosted sales. It also ran into trouble with its coverage of Madeleine McCann, the young girl who was apparently abducted in Portugal while on holiday with her parents Gerry and Kate McCann.
Several articles wrongly implied they had may have been complicit in Madeleine's death and resulted in a front-page apology in the paper after a high court ruling which followed legal action by the McCanns.