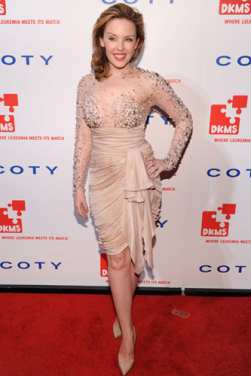 Kylie Minogue
Kylie Minogue has offered her support in the search for Madeleine McCann by raising money to help find the missing Briton.

The Australian singer has donated a designer handbag to Kate and Gerry McCann, whose daughter Madeleine went missing during a family holiday in Portugal in 2007.

They are very grateful to everyone who gave bags and bought them. They were in all shapes and sizes, from glamorous designer bags to casual sports items

It is not known how much the silver shoulder bag, which came with a photo of Minogue and her autograph, raised in the Bags of Hope auction, but the McCanns are said to be grateful for the star's help.

Comment on this Article
A source tells Britain's Daily Mail, "They are very grateful to everyone who gave bags and bought them. They were in all shapes and sizes, from glamorous designer bags to casual sports items