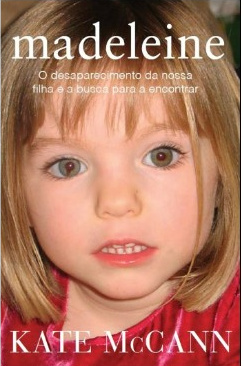 Madeleine by Kate McCann is now available. Photo: SUPPLIED
Kate and Gerry McCann, parents of missing Madeleine McCann, returned to Portugal at the weekend to promote the launch of the Portuguese version of Madeleine, the book about the case as written by Kate.

In an interview with the Algarve Resident, Kate McCann spoke of how important the release of the book in Portugal is for the case and how she hopes that as many people living in Portugal as possible read it to help them in their search for their daughter.

Madeleine was released in Portugal on Monday and it had always been the plan of the couple to publish the book in Portugal.

"Someone in Portugal may be holding a key piece of information, knowingly or otherwise," said Kate McCann.

"Once we'd made the decision to publish the book, we always wanted it to be published in Portuguese too. Madeleine disappeared in Portugal and the person who took her was obviously in Portugal, therefore it is important for us, for Madeleine's sake, to share all the information we have with the Portuguese people and reach out to them for their help."

Despite the sometimes negative reaction to the McCanns in Portugal in the past, the couple said that they had not been nervous about coming over to present the book here and that the general response by Portuguese people and press while on their promotional trip to Portugal had been "very positive – friendly and supportive".

"We want to find Madeleine and that is the main objective of the book. The perceptions of us may change or may not but we feel that people will be in a better position to make a judgement after reading the book. Our main goal has always been to find our daughter," said Kate McCann.

The couple maintain close links with Praia da Luz where Madeleine disappeared from four years ago and last month a vigil was held in the town which was attended by both British and Portuguese supporters.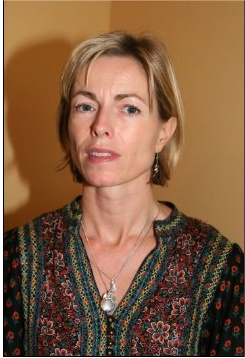 Kate McCann appeals to anyone who may have information relating to Madeleine's disappearance to come forward. "It's never too late to do the right thing," she says. Photo: Chris Graeme - THE RESIDENT GROUP.
Kate said: "It was really uplifting and heart warming for us to hear of the continued support for Madeleine in the community of Praia da Luz and beyond.

"We have received letters and emails from Portugal encouraging us to continue the search for Madeleine and offering support."

She added: "We have great friends and help in Portugal and we know that the majority of the Portuguese support our cause and want Madeleine to be found. It's been really important to us, since the very beginning, to receive all this support. We needed it and still need it, as does Madeleine."

Already Madeleine has become one of the fastest selling nonfiction titles in the UK with more than 136,000 copies being sold in the first 12 days and Kate hopes that there will be similar levels of success for the book in Portugal as "the more people reading the book, the greater our chances of finding Madeleine".

The reasons behind the book becoming a best seller in the UK are varied according to Kate: "I think there are many people around the world who have been affected in some way by Madeleine's abduction and desperately want Madeleine to be found. Also, most people have not heard our side of the story and are interested to hear it."

Writing the book and reliving their personal and private torment has been difficult for Kate and Gerry.

However, the couple maintain that they have no regrets about publishing the book.

"We need to continue our search to find her and also we believe the book may also lead to information coming in to us which could lead us to Madeleine," said Kate.

"The most important message we want to get across is for people to please read the book. If you know something or remember something that may be related to Madeleine's disappearance which you haven't told to the authorities, please come forward and share it with us now.

"It is never too late to do the right thing. We need to find our little girl."

To read the Algarve Resident's review of the book, see http://www.algarveresident.com/story.asp?XID=41808