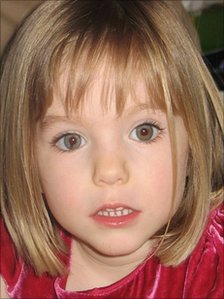 Madeleine McCann vanished in 2007
Metropolitan (Met) Police Commissioner Sir Paul Stephenson has been questioned over the decision to review the disappearance of Madeleine McCann.
Concerns about the way the force decides which cases to review were raised at a Metropolitan Police Association (MPA) meeting.

Sir Paul said it could receive requests on any case, even those outside London.
The Met agreed to review Madeleine's case after a Home Office request earlier this month.
Madeleine, whose family lives in Leicester, went missing at the age of three while on holiday in Portugal in May 2007.

Expertise 'unique'
The Home Office said Scotland Yard would "bring their expertise" to the search for Madeleine.
But campaigners have raised concerns that this has happened at a time when police resources are stretched and the Forensic Science Service is due to close.
When questioned on the matter Sir Paul said: "We would consider, 'Can we add expertise and is that expertise unique or unusual that we have that other people don't have?.
"Does our international reputation add value and, very rigorously, if it's not within our locus then we do want to ensure that there is the right amount of money coming in to make sure London doesn't suffer."
Campaigners and relatives of other lost and missing children held a vigil outside City Hall ahead of the meeting.

'Worst nightmare'
London Assembly member Jenny Jones, who was one of those who questioned Sir Paul, said: "A missing child is every parent's worst nightmare and I have real sympathy for the many families in this position.
"Because of the prime minister's request to review the Madeleine McCann case, the Met police will be using a lot of time and resources to focus on one particular case, outside of their jurisdiction.
"I don't know how they will justify to other families why their missing children will not be getting exactly the same level of attention."
A Met spokesman said the review was being carried out at the request of the Home Secretary.
He said: "The commissioner has considered the request and the review will be carried out subject to funding being made available by the Home Office as the case is beyond the Metropolitan Police Service's jurisdiction."