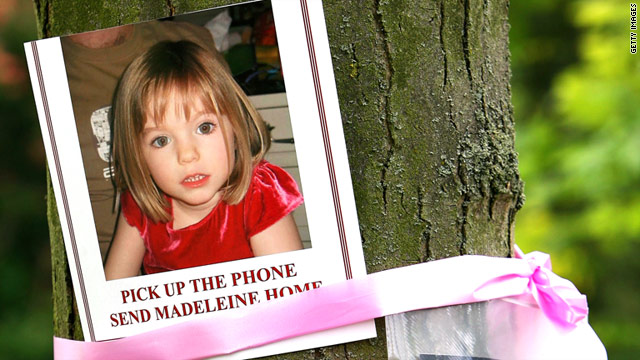 News of Madeleine McCann's disappearance in 2007 grabbed headlines around the world
Watch the full interview with Madeleine McCann's parents, four years after her disappearance, on Piers Morgan Tonight, 9 p.m. ET.
STORY HIGHLIGHTS
The parents of Madeleine McCann have written a book about their ordeal

Kate McCann says any earnings in book sales will pay for the investigation

Madeleine was nearly four when she vanished in Portugal
(CNN) -- Four years after the disappearance of Madeleine McCann, a British toddler who went missing in Portugal, her parents have written a book detailing their account of that horrible night.
"I suppose there's always been the urge to -- to get the truth out there," Kate McCann, the missing girl's mother, told CNN's Piers Morgan in an interview. "Obviously, when there's been so many stories written. But we've always had things to weigh up. And ultimately, Madeleine's fund was running out, and I knew that we'd need to raise money, really, to continue to search."
She says profits from the book sales will be directed toward furthering the investigation into the disappearance of their daughter in Portugal's Algarve region in 2007.
"There's just always something inside, and the pain is never too far away from the surface," said Gerry McCann, the girl's father.
News of the missing wide-eyed girl grabbed headlines across the globe and moved celebrities such as soccer star David Beckham to make public pleas for her safe return.
"I don't think it consumes every minute as it did before," Kate McCann explained. "But certainly, you know, Madeleine's absence is there constantly."
She added that she's "now reached that point where I will allow myself to take time out, and just relax a little, enjoy something." But the absence of her daughter is "still tangible."
The pair says they are hopeful that the book, titled "Madeleine," will prompt others to come forward with information about the girl's disappearance.
"There is a chance she may not be alive," said Kate McCann. "But what we do know is there's a very good chance that she is alive."
Madeleine was nearly 4 years old when she vanished from her family's holiday apartment in Praia da Luz as her parents dined in a nearby tapas restaurant with friends.
Despite a huge police investigation and massive coverage in the Portuguese and British media, she has not been found.
At one point, authorities in Portugal had named the girl's parents as suspects, as well as a British man living in Portugal, Robert Murat.
But a spokesman for the Portuguese prosecutor's office said in July 2008 that authorities found no evidence of involvement by any of the three and they were no longer considered suspects.
Kate McCann said earlier that she thought being named as a suspect had a devastating effect on the case.
Portuguese investigators closed the case in July 2008.
Watch Piers Morgan Tonight weeknights 9 p.m. ET. For the latest from Piers Morgan click here.
Transcript
Piers Morgan (PM) - Gerry, I mean, a difficult question, but obviously the resort you were in, had lots of nanny facilities, and they weren't that expensive to use, and you are both professionals earning money. Another criticism that is put to you is: why didn't you just pay to have a nanny if you wanted to go out for dinner?

Gerry McCann (GM) - Yeah, I mean, it's not a question of money. We did what we thought was best with the kids routines, and... I think as parents, ahm, we were, we had a very good routine in terms of the whole bar, bed story, type of thing. And, and, I take your point but for me, you know, if your children are asleep upstairs in a bedroom and you're dining in the garden, you're out of sight and can't hear them. Ahm, and that's the similar thing to me, we were...

PM - Except, I guess, that most peoples homes are secure, you know?

GM - Sure.

PM - This was not a secure property, people could come in and off the street if they wanted to, that, that's were the criticism, I guess, comes at its most fierce towards you. You're intelligent people and you're certainly good parents, no one is questioning that, from all the accounts that we've all heard. It's just, when you're having people coming in and off a street like that, and it's not your home, and it's not really secure.

GM - Again, that it's back to the safety issue, we did not perceive an element of threat, and... Child abductions is so rare, why would you have ever have thought that someone was going to get in the apartment and steal your child? (clip cut) It just didn't enter our head, if it had, it wouldn't have happened...

Kate McCann - You're right. We've been trough all of this questions, day in day out, why, how, why... And I can only, you know, say to myself: Well, Kate you felt really safe and I know how much I love my children, and there's no way I'd taken a risk.

GM - I think the worst thing about the focus on our behaviour is, and you know, if we could change it, we would, we can't change it but it takes the focus away from the abductor [notice the smirk whilst Gerry mentions the word abductor], and that becomes quite frustrating for us because, Madeleine is still missing, and those, that person, or those responsible for taking her, are still at large.