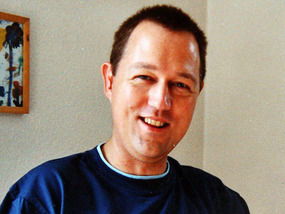 In Germany he can be referred to only as Martin N because of its laws on naming suspects
THIS is the man who has confessed to one child murder and is now facing questioning over the disappearance of Madeleine McCann.
The 40-year-old German youth worker, who we can name only as Martin N, is being questioned over at least three child murders and 40 suspected attacks on children across Europe.

He bears a striking resemblance to the photofit of a man seen holding a child in his arms just minutes after Madeleine was snatched from Praia da Luz.

He targeted children on holiday, entering their tents, apartments or villas, armed with a knife or gun and wearing a black balaclava and clothing. He also threatened to kidnap a child unless the parents paid a ransom.

Private detectives working for Kate and Gerry McCann will now try to discover if he was in Portugal when Madeleine vanished from the family's apartment at the Algarve resort on May 3, 2007.

McCann spokesman Clarence Mitchell said: 'Our private investigators became aware of this man a month ago and they will be liaising with the German investigators. The investigation is at an early stage.'
German detectives will shortly question the child killer over the disappearance of six-year-old blond German boy Renee Hasse, snatched from the beautiful Amoreira beach near Aljezur on the Algarve in June 1996. The beach is some half an hour's drive from Luz.

They believe Martin N was in Portugal that summer and are checking his passport and bank accounts to build up a complete picture of his movements over the past 20 years across Europe and South America.

They are trying to establish if the Hamburg-based youth worker, who is said to have used his good communication skills with children to lure his victims, was acting alone or was part of a ring of paedophiles.


He was arrested last month after a major police operation. In Germany he can be referred to only as Martin N because of its laws on naming suspects.

Officers say he has confessed to the murder of nine-year-old Dennis Klein, who vanished during a school field trip at the Lower Saxony coastal town of Cuxhaven on September 5, 2001.

Mushroom pickers discovered the child's body about 15 miles away two weeks later but the killer's trail had long gone cold. Earlier this year, a witness who saw a television programme about the case recalled seeing an estate car parked on a forest path at about 4.30am in early September 2001.

A boy who resembled Dennis was in the back seat and a man in the front. The brawny, bespectacled man, who looked to be in his early 30s, matched a description police had received of the suspect from sex abuse victims. He was dressed in black.

In 1992, police said that Martin N had kidnapped and killed 13-year-old Stefan Jahr.

A month earlier he had entered a youth hostel in Bremen, pointed a knife at a boy and ordered him to follow him.

The boy's scream alerted a teacher who frightened the attacker off.

French police are believed to be about to question Martin about the fate of Jonathan Coulom, 11, who disappeared from a school hostel in St Brevin in the west of France. His body was found six weeks later, handcuffed and in his pyjamas in a pond 30 yards from the hostel.

This could be just the tip of the iceberg. Detectives in Holland want to speak to him about the murder of Nicky Verstappen in August 1998.

The boy disappeared from a tent in Brunssum and his body was found in a plantation of fir trees the next day.

Although so far he is suspected of killing or attacking young boys, clinical psychologist Ron Bracey stressed that gender is not so important to paedophiles, making it quite possible that he could target a girl like Madeleine.

He said: 'With paedophiles the gender of the child isn't really that relevant. It's quite possible he could have killed girls and boys.'

The thought that Madeleine may have been abducted by a paedophile, and is possibly still being abused, is Kate McCann's worst fear, according to a newspaper interview yesterday. She was speaking in advance of her book, simply called Madeleine, which is published on Thursday.

Meanwhile a profile of Martin N began to emerge yesterday. German police interviewed him in 2004 after two boys complained they had been sexually attacked.

He was given a small fine but appeared before the courts again in 2006 when a man said Martin N had demanded 20,000 euros or he would tell police the man had child pornography on his computer. Two years later Martin N was asked to supply a DNA sample for police but failed to keep the appointment.

It is believed that between 2000 and 2008 he worked for an evangelical church on a project for the homeless.

His mother is distraught about the police investigation and does not accept the boy she raised has grown into a monster. She describes him as 'normal, a little timid and very attentive'.

She insists he never showed signs similar to 'the cruelty necessary to commit these horrible crimes', although a German magazine claims he was scarred by his father leaving the family when he was young.

At 21, the suspect finished a teacher training course and started to travel. Police know he visited Ecuador in 1993, Peru in 1995 and Portugal the following year. He has also made repeated trips to Holland and Denmark.

Police psychologist Alexander Horn said: 'During his studies to be a school teacher he was a solid student, although not over-brilliant. No professor observed any behaviour that brought special attention, no evidence from work colleagues that recalled him as a violent person. In fact, quite the reverse.

'Everyone who has been his neighbour or has worked with him describes him as reliable, amiable, friendly and very intelligent. He was always disposed to help with a smile on his lips.'

There are suggestions, however, that in 1987 he sent letters threatening extortion to neighbouring families. One is alleged to have warned: 'If you don't follow our instructions, your children will die.'

His penalty involved doing social work for eight weeks. Five years later he went on to kill his first 'victim.

German police spokesman Anke Rieken said: 'Every place that he has been, every person with whom he has been in contact could lead us to more victims.'

Last week the church in Praia da Luz was filled with supporters and wellwishers on the fourth anniversary of

Madeleine's disappearance. Although the McCanns were not present, a message from Kate was read out while prayers and readings were given in English and Portuguese.

Father Haynes Hubbard, of St Vincent's Church of the Algarve, said: 'There were far more people at the service than we expected, exceeding all our expectations.

'This was not a memorial service, instead we were challenging those who attended to continue in their search for Madeleine.'

Susan Hubbard, his wife, who is a friend of Kate's, said: 'Father Haynes was unfortunately ill at home in bed so he could not lead the service but it was not something that was really led anyway.

'We had readings in both English and Portuguese and I read out a message that Kate McCann had sent over for us.

There were more people than ever in the church for the vigil. It looked to be full, with a mixture of Portuguese and foreign residents and visitors who all wanted to come and say a prayer.

'We prayed for the safe return of Madeleine but also for the return of other missing children including Rui Pedro and others. Although we may not know all of their names, we pray for their safe return too.

'We believe that Praia da Luz has been given a mission to be the place that represents all missing children and we will continue to pray for them all.'

After the half-hour service candles were lit outside the church as a symbol of hope and light in the search for Madeleine.

Additional reporting: Allan Hall in Berlin and Bill Bond in Madrid