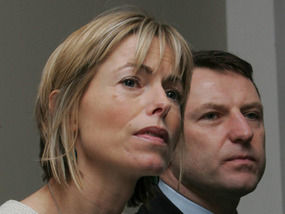 Kate and Gerry McCann
FROM the moment he set eyes on her, Gerry McCann was mesmerised by Kate Healy's infectious smile and sense of humour. The attraction was obvious but any chance of a romance looked doomed from the start due to the ambitious Kate's work commitments.
They met as young doctors working in different departments at Glasgow's Western Infirmary in the early Nineties and there was an instant chemistry between them, friends remember.
In 1996 Kate moved to New Zealand to work and Gerry dropped the chance of a dream job in the US to follow her there. Kate was never in doubt about Gerry's intentions after he travelled the world to be with her and by the time they returned to settle in Glasgow in 1998 they were already planning to marry. Their wedding took place that December at Our Lady of the Annunciation in Catholic Kate's home city of Liverpool.
Both Kate and Gerry were ambitious with Glaswegian Gerry qualifying in cardiology (he is now a consultant) while Kate concentrated on anaesthetics and gynaecology. In 2000 they moved to Queniborough in Leicestershire when Gerry got a job at the Glenfield Hospital in Leicester, while Kate worked as a GP in Melton Mowbray.
Although driven by their careers the most important thing in their lives was becoming parents but, even though the rest of their lives were going well, their dream of a baby didn't seem to be coming true.
Kate, who suffers from inherited endometriosis (a uterine condition), recalled: 'I wanted to be a mother. When we were trying for a baby and it wasn't happening, it was really hard. The longer it went on the harder it was.
'I saw my friends having children and I was delighted for them but it made me sad too. We tried unsuccessfully for several years to conceive. There came a point when we admitted we needed help. I was so desperate to have a child I'd try anything. I know IVF isn't everyone's choice but I wanted to try it.'


Kate was devastated when initial treatment at a private fertility clinic failed but the couple remained united, strong and determined. When she finally fell pregnant with Madeleine in 2002 aged 35 she said:
'It didn't seem true. It was just fantastic. It was incredibly special because we had been waiting for a long time. I did a test at home so I could handle the result if it wasn't good.
'I was looking at it thinking: 'I don't believe that!' Then I went to the hospital and they checked it. I was really excited. It was a really uncomplicated pregnancy. I had no sickness, nothing.'
Madeleine was born on May 12, 2003, at a Leicester hospital.
Recalling her miracle baby's birth Kate said: 'There she was, perfect. She was lovely. She had the most beautiful face. I thought I was going to have a boy, just based on instinct. That actually made it even more special that she was a girl. She took us by surprise.'
Kate and Gerry wanted a bigger family and after further IVF treatment in the Netherlands, where they were living after Gerry got a job there, Kate fell pregnant with twins in 2004.
The couple moved back to Britain and Sean and Amelie were born on February 1, 2005. Finally Kate and Gerry's life was complete. Madeleine was awestruck by her little brother and sister.
'She was amazing,' said Kate. 'She was only 20 months old, still a baby herself, but she handled it all so well. Madeleine came in to see them for the first time and, oh, her little face!
'It was lovely. She's got bags of character, that's for sure. She's very loving, caring, very funny, very chatty, very engaging, but she has her moments like all children do. I do think she's very special.'
In May 2006, the McCanns moved to their ideal home; a '600,000 detached house in Rothley, Leicestershire, where they became part of village life.
Madeleine attended the Laurels Nursery; rugby-loving Gerry would visit the Woodmans Stroke pub to watch matches and he and Kate would go running regularly, or play sport with the children.
An important part of their lives was attending their church, the Sacred Heart, just a five-minute stroll from their home, for Sunday morning mass with the children. Kate often went to a Tuesday morning service too.
Their strong faith was to play a vital role in the events which followed.