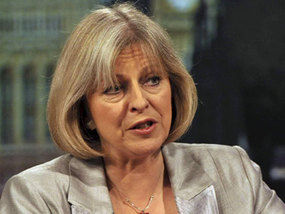 Theresa May was told that the hunt for Madeleine McCann will fail without new clues
THE hunt for Madeleine McCann will fail unless police uncover a fresh clue, Europe's top policeman has said.
Europol director Rob Wainwright revealed he was contacted by Home Secretary Theresa May after the Prime Minister announced that the case should be reviewed.
He said: 'She asked for my advice about in what way we could move the case along again.
'We all know how difficult it is. We picked up one or two leads in the past ' nothing substantial.
'The Portuguese authorities have done as much as they think they can. Their position is that if there is credible new
Police need fresh clues about Madeleine McCann
intelligence, they'll open the case immediately.' David Cameron last week ordered the Metropolitan Police to review all the evidence following a plea by Madeleine's parents, Kate and Gerry.
One credible theory is that Madeleine was kidnapped and sold to a child sex ring.
Mr Wainwright said: 'We don't know what's happened to Madeleine McCann. We can only surmise it might involve a child sex network. If it does, we have a lot of experience and intelligence at our disposal and we are ready to help.'