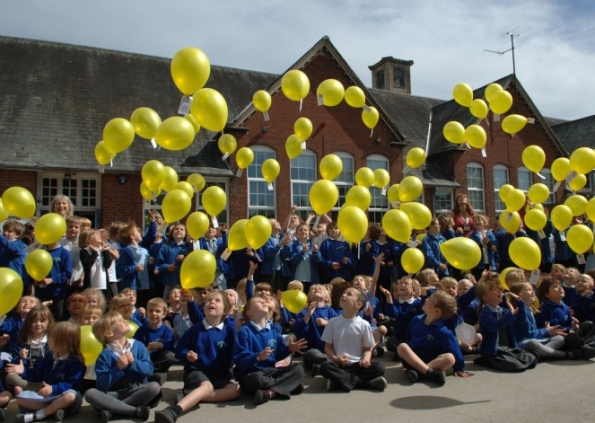 Little Bowden Primary school children release balloons during international missing children's day. (Picture: Andrew Carpenter/001377-90)
BRIGHT yellow balloons were released into Harborough's skies to mark International Missing Children's Day.
Children from Little Bowden Primary School took part in the event yesterday (Wednesday), organised by missing children's group Forever Searching.
Youngsters gathered on Little Bowden Recreation Ground to release balloons with tags attached giving the details of children still missing in the UK.
Forever Searching aims to actively raise awareness of missing children in the hope that they are traced and brought home to their parents. The group uses the colour yellow as it traditionally symbolises home-coming – historically yellow ribbons would be displayed when families were expecting the return of their loved ones.
The organisation came about following the disappearance of Madeleine McCann in 2007. As volunteers began their search for the Leicestershire three-year-old, it became apparent just how many children across the UK were missing. This sparked the need for greater public awareness of all missing children cases.
Event organiser and Harborough mum Maxine Harris became involved with Forever Searching after Madeleine's case hugely raised the profile of missing children. Maxine, who also works with the McCann family's campaign, said: "You should never give up searching. I'd like to think that if it was my child, others would never give up. It's good to feel that you're actively doing something to help."
Money raised by the group is channelled into awareness events like the Little Bowden balloon launch and allows for pictures of missing children to be distributed around the world in the hope that the images will jog the memory of somebody somewhere.
It is estimated that up to 110,000 children go missing in the UK every year. Most are found within a week with 1 per cent becoming long-term missing after a year.
To find out more about the campaign visit www.foreversearching.com.