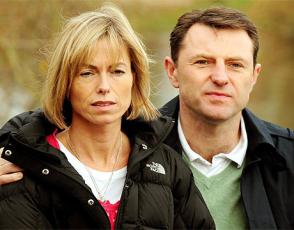 HEARTBREAK: Kate and Gerry McCann are still in the dark about what happened to daughter Madeleine
MADELEINE McCann's parents Kate and Gerry are to appear on the Late Late Show for their first major Irish interview, the Herald can reveal.
Host Ryan Tubridy will be talking to the McCanns on Friday week as they continue their efforts to locate their missing daughter.
It is believed the interview is being timed to coincide with the publication of 43-year-old Kate's book, entitled Madeleine, which hits the shelves next week.
The 384-page work is being released on May 12, Madeleine's eighth birthday.
Kate and Gerry marked the fourth anniversary of their daughter's disappearance with family and friends this week.
The book is their account of how the youngster vanished while on a family holiday in Portugal.
Madeleine was nearly four when she went missing in Praia da Luz, Algarve, in May 2007.
The McCanns hope the publication of the book will prompt people holding vital information about what happened to come forward.
It was originally due out last week but publishers Transworld postponed the release to avoid a clash with the Royal Wedding.
The official Portuguese inquiry into Madeleine's disappearance formally ceased in July 2008. However, private detectives employed by the McCanns have continued the search for the missing child.
Liverpool-born Kate's mother Susan Healy said of the book: "Kate has to tell her story, even though it's been the most terribly painful process over the last nine months.
"We just hope that something will come from the book. It's something that may just force someone to come forward. It's also an account for Madeleine and for the twins [six-year-old Sean and Amelie]."
Proceeds from the sales will also help boost their dwindling fund to search for their daughter.
The book, which Kate wrote without the aid of a ghost writer, has a recommended retail price of around '22 and is expected to become a best-seller.
Extracts will be serialised by newspapers from this weekend before the book is published.
A family friend described how Kate wrote through the day, while the couple's twins were at school, and then returned to her study to write late into the evening after the children had gone to bed.
The McCanns hope sales of the book will raise more than '1m ('1.1m) for Madeleine's fund.
The book's launch will be accompanied by several television interviews, including the Late Late appearance.
comurphy@herald.ie
- Cormac Murphy