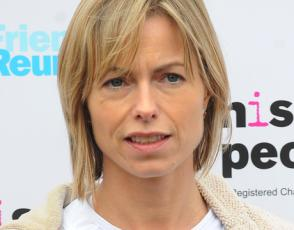 ANGUISH: Mum Kate McCann reveals her nightmare over the abduction of Madeleine in Portugal
MISSING Madeleine McCann's mother has revealed how she is "relentlessly" taunted by images of her child falling victim to a paedophile.
Kate McCann has given the most detailed account yet of the events surrounding Madeleine's disappearance while on a family holiday to Portugal in 2007.
"The truly awful manifestation of what I was feeling was a macabre slideshow of vivid pictures in my brain that taunted me relentlessly," the 43-year- old writes in her book simply entitled Madeleine.
EVIL
"I was crying out that I could see Madeleine lying cold and mottled, on a big grey stone slab.
"The pictures I saw of our Madeleine no sane human being would want in her head, but they were in mine.
"I simply couldn't rid myself of these evil scenes in the early days and weeks."
Madeleine was almost four years old when she vanished from her bed in the McCanns' apartment at the Ocean Club holiday resort in Praia da Luz between 9.35pm and 10pm on May 3, 2007.
Despite a massive police investigation and huge publicity worldwide, she has not been found.
Private detectives employed by the McCanns have continued the search after the official Portuguese inquiry was shelved.
The book's release will mark the little girl's eighth birthday. It was written by Mrs McCann using her personal diaries.
In another extract, she revealed that her husband Gerry (42) was also wracked with similar harrowing thoughts and visions.
"I asked Gerry apprehensively if he'd had any really horrible thoughts of visions of Madeleine," she writes.
"He nodded. Haltingly I told him about the awful pictures that scrolled through my head of her body torn apart.
"Later on it was the nights that were the worst.
"Not only did lying awake in the dark take me straight back to the most awful night of all, but my brain, finally free of the preoccupations of the day, would wander unbidden down black and terrifying avenues.
PAIN
"I struggled constantly to think nice thoughts and drift off to sleep, but the demons had me in their grip and would torture me mercilessly with images too frightening and painful to share."
Mrs McCann, a former part-time GP from Rothley, Leicestershire, also lays bare how she wanted to kill and "inflict the maximum pain possible" on the person who had abducted her daughter.
"Once we did begin to function within what felt like an endless bad dream, we started to comb through our memories searching for something significant," she recalls.
"When she was first stolen, paedophiles were all we could think about and it ate away at us. The idea of a monster like this touching my daughter, stroking her, defiling her perfect little body, just killed me over and over again.
"I would lie in bed hating the person who had done this to us -- the person who had taken away our little girl and terrified her."
The book also criticises the Portuguese authorities, who shelved the investigation into Madeleine's disappearance in July 2008, for failing to investigate other alleged child abductions thoroughly.
Proceeds from the '26.40 book, which Mrs McCann has written herself without the aid of a ghost writer, will boost the dwindling fund to search for her daughter.
The McCanns also hope that the publication will prompt people holding vital information about what happened to the child to come forward at last.
It was due to be published last week but publishers Transworld postponed the launch to May 12 to avoid clashing with Prince William's wedding. It is expected to become an instant best seller.
hnews@herald.ie
- Adelina Campos