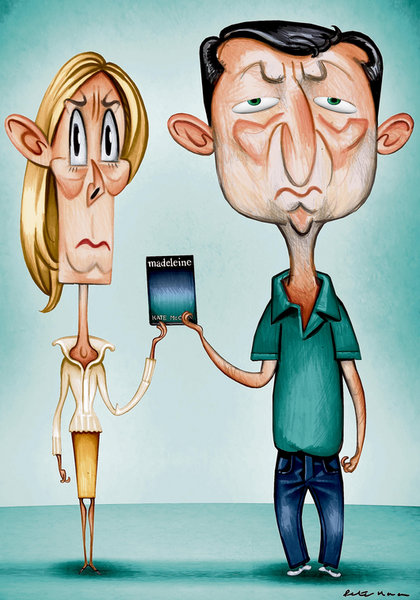 Illustration: Peter Hanan
PROFILE: KATE AND GERRY McCANN: For four years the deeply private parents of Madeleine McCann have exposed themselves to the media to keep the search for their daughter in the public eye, writes KATHY SHERIDAN . Now they're publishing a book about it

FEW ISSUES FLUSH out more self-righteous bile than other people's parenting. For critics of Kate and Gerry McCann the loss of a daughter was never sufficient punishment for a bad parenting decision. They have had to shoulder accusations of neglect and murder, in screaming headlines, across several countries. Message boards call for them to be lynched.

'If the McCanns were from Norris Green [a troubled Liverpool housing estate] and their child had gone missing while they were playing bingo, they would be national hate figures,' commented one poster this week on a report of a Mass in the city to mark the fourth anniversary of Madeleine's disappearance.

The McCanns' error was to leave their small children sleeping in an unlocked ground-floor apartment while they dined with seven friends at a tapas bar about 120m away, in the Portuguese resort town of Praia da Luz. They left the apartments unlocked for fear of fire, they later explained; they chose not to use the babysitting service because they didn't want to leave their children with strangers. Members of the party were to take turns checking on all the children at 30-minute intervals. The catastrophic outcome was the disappearance of Madeleine from her bed. She was a few days short of her fourth birthday.

For the traditional media 'Maddy' was circulation gold. For the pseudonymous bloggers and message-board posters, her parents became a magnet for poisonous, malicious speculation. The case became 'a sort of blogging Viagra', as one journalist put it in a remark related by Roy Greenslade of the Guardian. Every new reference to the McCanns triggered a surge of casual savagery online, fuelled by the traditional media's gleeful splashes of unsubstantiated leaks.

The least of the accusations was that the McCanns had escaped censure for child neglect because they were white, middle-class and attractive.
The worst, wildest accusation was that Kate had killed her daughter and Gerry had helped to cover it up. Always entangled among them were baseless allegations that he was not the natural father, that she was on medication, that the children had been sedated, that the couple's relentless campaigning was all about the money.
Kate McCann's problem from the start was that she failed to fit the role of grieving mother. Too controlled, too fit, too good looking, too middle-class, too attached to 'parading herself before the world', clutching her missing daughter's favourite toy.
The online supersleuths believed they had her measure early on: 'It was Kate McCann NEVER appearing in any pictures for weeks after Madeleine went missing without Cuddle Cat being superglued to her hand that made me start to suspect that everything they did was totally false and stage managed. One face for the cameras and another one behind closed doors,' commented one of the most printable posters.

McCann's stoicism, natural reserve and grimly maintained jogging routine merely inflamed delicate tabloid sensibilities. Her unwillingness to break into choking sobs for the cameras or to claw the earth in remorse for her admitted parenting mistakes supposedly proved she wasn't a natural mother. Leaks from inside the investigation claimed that her controlled public appearance, and even her carefully applied make-up, indicated a 'cold and manipulative' personality. Right from the beginning, it was said, the Portuguese police suspected her because their wives were telling them she looked too controlled, didn't weep enough.
She told her mother, Susan Healy, 'If I weighed another two stone, had a bigger bosom and looked more maternal, people would be more sympathetic.'
There are sound precedents for her theory. In the so-called dingo baby case in Australia, in 1980, Lindy Chamberlain was adjudged too 'cold' by jury and media and convicted of murdering her baby, serving many years in prison before fresh evidence led to her vindication.

Gerry McCann explained that he and his wife had been advised that self-control might have most effect on a putative kidnapper tuning in to their many television pleas. His wife gave self-flagellating interviews, admitting their mistakes and revealing that their three much-loved babies were the result of IVF treatment. The British and Portuguese news media had found their own circulation Viagra, the gift that kept on giving: photogenic, affluent, professional folk; strikingly pretty, blond missing child; controversial parenting decisions; sunny foreign resort; suggestion of lurking paedophiles; questionable police investigation; deepening hostility between the two sides; and a resultant poisonous trickle of leaks.

PETER HILL, THE now retired Daily Express editor, presided over stories that suggested the couple were complicit in their daughter's disappearance. For those libels and defamatory reports in the group's other titles, Express Newspapers had to pay the McCanns '550,000 (plus '375,000 to the Tapas Seven, who announced they would be giving the money to the Find Madeleine fund). He now regrets it, 'of course', he told Greenslade.
So why did it happen' 'It was a huge story, and every adult in the country had an opinion on it. I admit it helped to sell the paper. There were many factors involved, such as the way Maddy's parents sought publicity in an unprecedented way. All the way through our principal focus was on 'what's happened to Maddy'' The Portuguese police and British legal sources were leaking stories that implied the McCanns were guilty in some way. We were not to know that the Portuguese police were ineffectual and, in some cases, corrupt.'

They (and their lawyers) deemed these stories fit to print anyway, inflicting collateral damage on innocent lives, but paid a price for it. The bloggers and posters pursue their agenda with impunity, never pausing to wonder why, if they had killed their child, the McCanns worked tirelessly to keep the case alive.
In an interview to mark the first anniversary of Madeleine's disappearance Gerry McCann felt obliged to remind people that they were real people: 'We are not characters in a soap opera or a fiction.'
He returned to work as a consultant cardiologist at Glenfield Hospital in Leicester about six months after the tragedy, often cycling the eight kilometres to work. His wife, who never returned to her position as a GP, jogs around the country lanes of Rothley, the Leicestershire village where they live, after getting the children off to school; then she returns to their new-build house, in a quiet cul de sac, to work on the campaign to find their daughter. Though not a shrine, Madeleine's bedroom remains largely untouched, awaiting her return, according to the Daily Telegraph.

THE COUPLE ARE caught in a desperate dilemma: give up the search, and spare themselves the torture of the alleged sightings, the con men, the rumours, the malice and the abuse, or continue to ride the media tiger in the hope that it will flush out Madeleine's whereabouts.
Their relentless, costly Leaving No Stone Unturned campaign, ensuring that the public continues to be alert for the little girl, has been distinguished by its quasi-corporate professionalism. Staffing has included a campaign manager and a media manager, plus teams of full-time private investigators (currently led by two British former policemen). Services include a 24-hour multilingual call centre, travel packs for people going away on holiday, posters and multilingual prayer cards with photographs and contact details.
Clarence Mitchell, a former BBC journalist, resigned from his job with the British government's media-monitoring unit to become spokesman, his salary paid by a Cheshire businessman, Brian Kennedy. High-profile names such as Richard Branson have also donated generously; Branson gave '100,000 towards their legal costs.
Another fund supporter, JK Rowling, author of the Harry Potter books, is believed to have introduced Kate McCann to her agent, Christopher Little, when Kate McCann's forthcoming book was proposed. The account of their ordeal, which Kate wrote herself, and is to be published next Thursday, Madeleine's eighth birthday, is expected to be hard-hitting, particularly about the Portuguese police.
In it she will also relive the first days after Madeleine's disappearance and chart the media storms in the following months, when the couple became suspects. The legal firm Carter-Ruck has combed through the manuscript for possible libels.
Kate McCann, a deeply private woman, undertook to write the book with a heavy heart, and only because the campaign fund needs the '1 million she hopes it will raise. Although she has become notably more confident in her dealings with the press, marketing plans do not include public book signings, for fear of verbal or even physical abuse.

IN MANY WAYS, however, the tide is against them. Although Kate McCann is reported to have made several secret trips back to Praia da Luz, where she stays with an Anglican priest and his wife, and finds strength there, local businesspeople are desperate to shake off the dark legacy. Unsurprisingly, there is a marked reluctance in the town to discuss the story, reports the Daily Telegraph. The once ubiquitous photographs of the little girl around the little church of Our Lady of Light are gone.
Apartment 5a of the Ocean Club complex, from which Madeleine disappeared, has remained unoccupied and was put on the market two years ago at '50,000 below the market price, but it hasn't received a single inquiry. Instead it has become a ghoulish attraction for tourists who want their photographs taken outside. The infamous tapas bar is now a pizzeria and no longer opens in the evenings.
Four years on Kate McCann is sustained by her devout Catholic faith: 'I know the truth and God knows the truth and nothing else matters.' Gerry McCann has said that his own faith has deepened since Madeleine's disappearance, and the family attend Sunday Mass together. In an interview on BBC Radio Kate said that she includes in her prayers the police and investigators and other children who are missing or have been exploited, but also 'the people who have taken Madeleine, the people who know what's happened to Madeleine and the people around and related to the person who's taken Madeleine'.

Curriculum vitae
Who are they' A Leicestershire cardiologist and GP whose daughter Madeleine vanished in Portugal while they ate in a nearby tapas bar in 2007.
Why are they in the news' Kate McCann's book, Madeleine , will be published on Thursday, the child's eighth birthday.
What makes them so different' White, good looking professionals; controversial parenting decisions.
Hmm. Anything else' A relentless, multimillion euro global campaign to keep the investigation alive.