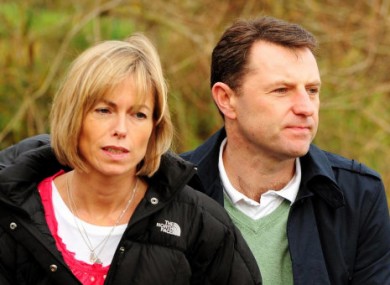 Kate and Gerry McCann photographed in November 2010.
THE MOTHER OF MISSING child Madeleine McCann has spoken of her ongoing pain at her daughter's disappearance and says her biggest fear is that the child was abducted by a paedophile.
Four years have passed since Madeleine was taken from the McCann's holiday apartment in Portugal, just days before her fourth birthday.
In extracts of her new book published in the Sun, McCann describes the night she discovered Madeleine was missing. She said she went to the apartment and discovered the door to the children's room was open before realising her daughter was gone and the window was wide open. She says she ran outside to where she, Gerry and friends were having dinner shouting: 'Madeline's gone! Someone's taken her!'
Kate McCann said she has 'vivid' images of her daughter crying and calling out for help.
She says she is tormented by thoughts that Madeleine was taken by a paedophile. She said 'one of the most concerning and upsetting pieces of information' that emerged early on in the investigation was the record of sexual crimes against children in the area of Portugal the family was staying in.
McCann doesn't think Madeleine was taken at random or on a whim: 'I think it was someone who knew out movements. I don't think someone was passing by chance and took a child,' she said.
Kate and Gerry McCann told the Sun that they are plague by guilt over Madeleine's disappearance as they sat with friends about 100 metres away from her.
They said their relationship has remained strong, although Gerry said there were times when he thought his wife 'would never get back to being the woman I love'.
The family says all of the proceeds of Kate's book will be used to find Madeleine.
Read more in today's Irish Sun (print edition) >