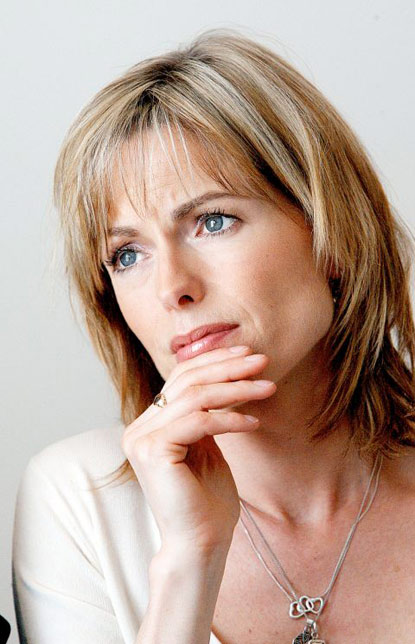 Kate McCann: Faith rocked by daughter's disappearance
devastating abduction of her daughter Madeleine caused her to question her faith.
The former doctor, known to be a devout Catholic, said her life had been "weighed down by guilt" since the three-year-old was snatched during a family holiday in Portugal in 2007.
In an extract from her book Madeleine, to be published on Thursday, Mrs McCann said: "There have been many times when I've felt God has deserted me or that He has let Madeleine down. I've occasionally doubted His existence altogether. And yes, I've been angry with Him."
Mrs McCann said she did not blame God for her daughter's disappearance because the abductor was responsible.
But she said she struggled with the fact the family still "do not have an answer".
She added: "How can so much suffering and injustice be heaped upon one family'
"It is said God only gives you a cross he knows you can bear. Well, I'm afraid this cross has been far too heavy for far too long.
"For now, though, at least, my anger towards God seems to have subsided. I believe in Him and I still feel His presence."
She also stressed she believed that "wherever Madeleine is, God is with her".
Mrs McCann, from Rothley, Leicestershire, had been dining with her husband Gerry and seven friends at a tapas restaurant 100 metres from the youngster's room in the resort of Praia du Luz when Madeleine vanished.
In another extract, serialised in the Sun, Mrs McCann said her sexual desire "plummeted to zero" after Madeleine was snatched.
She detailed "two continuing reasons" for this, saying: "The first was my inability to permit myself any pleasure, whether it be reading a book or making love to my husband.
"The second stemmed from the revulsion stirred up by my fear that Madeline had suffered the worst fate we could imagine: falling into the hands of a paedophile."
Proceeds from the 384-page book, which Mrs McCann has written herself without the aid of a ghost writer, will boost the dwindling fund to search for her daughter.