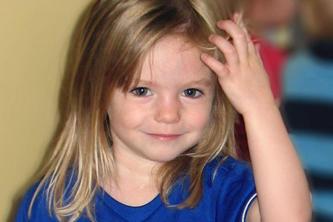 Madeleine
The couple are keeping a low profile as Kate, 43, prepares to publish her account of how the little girl vanished on a family holiday to Portugal on May 3, 2007.
Proceeds from the book ' which is simply entitled Madeleine and goes on sale on May 12 ' will boost their dwindling reserves to help fund the search for their daughter.
They also hope that the publication of the work will prompt people holding vital information about what happened to the child to come forward at last.
The McCanns, of Rothley, are not giving any interviews to mark the anniversary of Madeleine's disappearance this year.
However, they will be doing some to promote their book.
Family spokesman Clarence Mitchell said: "It will be a private day marked with family and friends. The anniversary is normally a very low-key occasion at home for them."
He added that there were no plans for the couple to return to Portugal for the four-year landmark.
Kate's 384-page book, which she has written without the aid of a ghost writer, has a recommended retail price of '20 and is expected to become a best-seller.
It was originally due to be available last week.
However, publisher Transworld postponed the release date by a fortnight to avoid clashing with the royal wedding.

Extracts from the book will be serialised by newspapers from this weekend, before the book is published on Madeleine's eighth birthday.
A publishing source said there was a "huge amount" of international interest in Kate's personal account, but it will initially be launched in the UK alone.
The book has been translated into Portuguese and is expected to be published in Portugal in the near future.

The McCanns are fighting a legal battle against former Portuguese detective Goncalo Amaral over his own book, which alleges that Madeleine died in the apartment and that her parents faked her abduction ' something the McCanns strongly deny.
In October, the appeal court in Lisbon overturned an injunction obtained by the couple banning publication of Mr Amaral's work, Maddie: The Truth Of The Lie.
Madeleine was nearly four when she vanished from her family's holiday apartment in Praia da Luz, in the Algarve, on May 3, 2007, as her parents dined with friends nearby.
Despite a massive police investigation and huge publicity worldwide, the youngster has not been found.
The official Portuguese inquiry into Madeleine's disappearance was formally shelved in July 2008, although private detectives employed by the McCanns have continued the search.

TIMELINE: Key events since Madeleine McCann's disappearance
2007
May 3:Madeleine is found missing from the family's holiday apartment. Kate and Gerry McCann had been dining with friends at a nearby restaurant. One friend later reports seeing a man carrying a child away earlier that night.
May 14: Anglo-Portuguese property developer Robert Murat is made an 'arguido'', or official suspect.
August 6: A Portuguese newspaper reports that British sniffer dogs have found traces of blood in the McCanns' apartment.
September 7:Detectives make Mr and Mrs McCann 'arguidos''.
October 2: Goncalo Amaral, the detective in charge, is removed from the case.
2008
May 3: Mrs McCann urges people to 'pray like mad'' on the first anniversary of Madeleine's disappearance.
July 21: The Portuguese authorities shelve their investigation and lift the 'arguido'' status on the McCanns and Mr Murat.
July 24: Mr Amaral publishes a book, The Truth Of The Lie, in which he alleges that Madeleine died in the holiday flat.
August 4: Evidence from the Portuguese police investigation is made public.
2009
January 29: '2 million was raised for the official fund to find Madeleine in the first 10 months.
September 9: A Portuguese judge bans further sale or publication of Mr Amaral's book following legal action by Mr and Mrs McCann.
2010
November 14: Mr and Mrs McCann announce they have signed a deal to write a book.
2011
April 28: An online petition calling for a full review of the evidence nears the 50,000-signature milestone.