The review of the evidence on Madeleine McCann's disappearance has been branded a waste of money by a member of the Metropolitan Police Authority

Met Police Commissioner Sir Paul Stephenson announced this week that his officers would undertake an evaluation of the case, following a request by home secretary Theresa May.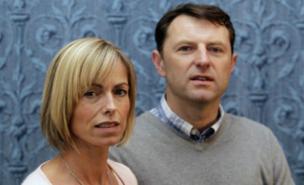 Kate and Gerry McCann are still searching for Madeleine (PA)
MPA member Jenny Jones has now questioned the wisdom of that decision at a time when funds are short.
She told the Mail on Sunday: 'The police should not take this case up in this way. It is ludicrous.
'This could take years and will cost millions. It is very unusual for police to step in like this and it is not an appropriate use of police resources.'
Ms Jones also questioned David Cameron's role in events after he urged the Met to look at evidence gathered by the Portuguese police, following the publication of an open letter from Madeleine's parents, Kate and Gerry McCann, in the Sun.
Two members of the House of Lords had already questioned whether it was simply a public relations exercise.
And Ms Jones asked: 'Although it is tragic and I feel for the McCanns, how can the prime minister justify spending millions of pounds on one case?'
Madeleine was just three when she vanished during a family holiday on the Algarve in 2007 and her parents marked her eighth birthday this week by renewing their calls for government assistance in the search.