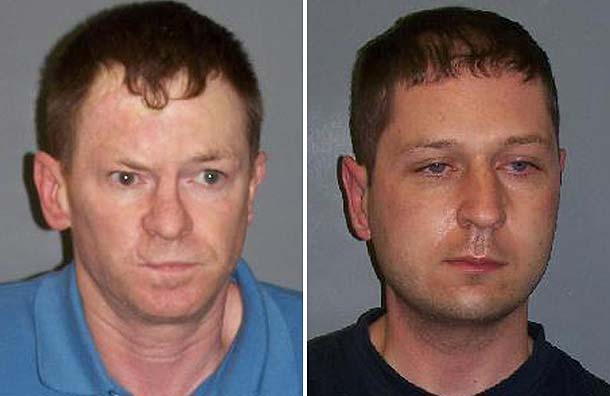 Charles O'Neill (left) and William Lauchlan (pics: PA)
TWO British paedophiles have been quizzed by police 'investigating Madeleine McCann's disappearance, it emerged yesterday.
Charles O'Neill, 48, and William Lauchlan, 34, were touring Spain and possibly Portugal when the youngster vanished in May 2007.
The pair, from Glasgow, were jailed last year ' O'Neill for 30 years and Lauchlan for 26, for carrying out sex attacks on children and murdering a mum who threatened to expose them
A source said: 'It cannot be overestimated how violent these two are. They are known to have strong links to other paedophiles.'
O'Neill resembles a suspect seen in Praia da Luz before Maddy, three, vanished.
It is the first time it has become public knowledge that British police 'interviewed anyone in connection with the case.
Leicestershire police would not comment but a senior officer in the 'investigation said: 'It's true, they have been interviewed in prison.'
A McCann family spokesman said it was 'encouraging' that police were still seeking 'information about Maddy.