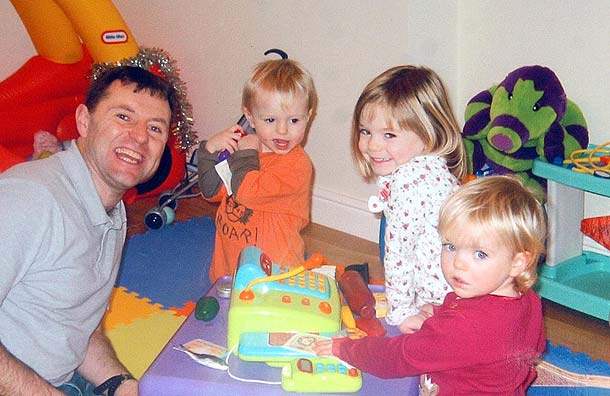 The McCann family
Kate McCann has told how her twins give her the strength to fight on and try to find missing Madeleine.

Four years after her daughter was abducted in the Algarve at the age of three, Kate has revealed a poignant conversation with Sean and Amelie, now six.
'Sean said to me recently, 'When you're old me and Amelie will look for Madeleine,' said Kate.
'I was chatting to Amelie and she said, 'Mummy's sad because Madeleine is not here. But Amelie is here, and Amelie and Sean will always be here.' '
Kate, speaking before her book Madeleine is published to raise funds to help the hunt for her daughter, said she worried she wouldn't be able to cope with not knowing what had happened to her.
She also feared the worldwide search could heap pressure on her marriage to 'husband Gerry.
But the twins, asleep in the same holiday apartment as Madeleine in Praia Da Luz, Portugal, when she was snatched on May 3 2007, have been the couple's lifeline.
Kate said: 'They include Madeleine in everything. If they have sweets they ask if they can put the last one in her room. We've been as honest as we can. They know that Madeleine was stolen. They call the person who took her 'the naughty man'.' She said the twins, two years old at the time, can recall how they went on holiday, woke up and their big sister was gone.
Madeleine, who would now be nearly eight, was snatched from her bed in the McCanns' apartment. Kate and Gerry were at dinner with friends in a restaurant close by and regularly checked on the sleeping children. But the last time Kate went to check she found Madeleine was gone.
Port'uguese police made only a half-hearted efforts before 'making Kate and Gerry suspects.
In her book, out on Thursday, Kate says that she is haunted by the fear that Maddie was snatched by a 'paedophile. 'She wrote: 'When she was first stolen, paedophiles were all we could think about, and it ate away at us. The idea of a monster like this touching my daughter, stroking her, defiling her perfect little body, just killed me over and over again. I would lie in bed, hating the person who had done this to us. I wanted to kill him. I wanted to inflict the maximum pain possible.'
The former GP from Rothley, Leics, told The Sun newspaper that she was consumed with guilt at having left the children alone but did not think there was any risk that they would come to harm. She could not get horrendous images out of her head. She wrote: 'I was crying out that I could see Madeleine lying cold and mottled on a big grey stone slab.
'I struggled constantly to think nice thoughts and drift off to sleep, but the demons had me in their grip and would torture me mercilessly with images too frightening and painful to share.
'An entry in my diary from that time: 'Crying in bed again ' can't help it. The thought of Madeleine's fear and pain tears me apart. The thought of paedophiles makes me want to rip my skin off.' '
Kate also reveals the heart-rending moment she made the horrifying discovery that her beloved little girl had been snatched from her bed. She had gone back to the apartment and felt a draught while the children's bedroom door was wide open. When she saw Madeleine was not in her bed, Kate checked to see if she was in hers.
She said: 'On the discovery of another empty bed the first wave of panic hit me. As I ran back into the children's room the closed curtains flew up in a great gust of wind. My heart lurched as I saw that, behind them, the window was wide open and the shutters on the outside raised all the way up. Nausea, terror disbelief, fear. Icy fear.' After scouring the apartment, Kate ran quickly to alert Gerry and their friends that Madeleine had gone missing.
'As soon as our table was in sight I started screaming: 'Madeleine's gone! Someone's taken her!'' she wrote.
As everyone started to search she ran into the car park shouting Madeleine's name. She added: 'It was so cold and windy. I kept picturing her in her short-sleeved Marks & Spencer Eeyore pyjamas and feeling how chilled she would be. Fear was shearing through my body.'
As the search went on Kate went back to the flat to check on the twins, who had slept soundly through the ordeal.
She reveals how she even had thoughts of suicide, explaining:'I had an overwhelming urge to swim out across the ocean, as hard and fast as I could ' to swim and swim and swim until I was so far out and so far exhausted I could just allow the water to pull me under and relieve me of this 'torment.'
She says she found it much harder than husband Gerry to 'switch off' from the grief. 'He was functioning much sooner. I sometimes found it almost 'offensive, as if somehow he wasn't 'grieving enough. He would suggest doing something nice... and I would cry.'
 Madeleine by Kate McCann will be published by Bantam Press on May 12.