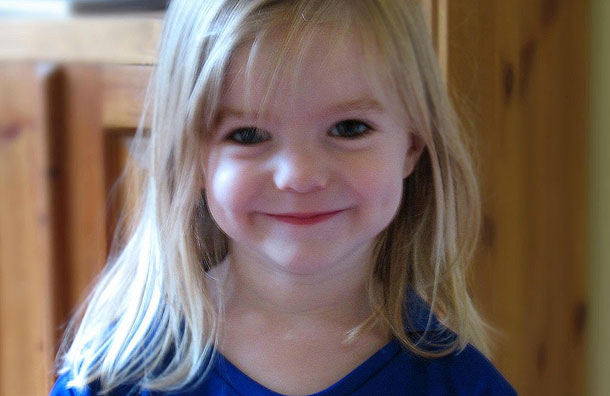 Madeleine McCann (Pic:PA)
Scotland Yard is putting no limits on its review of the investigation into Madeleine McCann's disappearance, Britain's top policeman has said.
Metropolitan Police Commissioner Sir Paul Stephenson said his force's re-examination of the case would be a "significant piece of work" that could produce recommendations about new lines of inquiry.
Critics claim the decision to bring in Met detectives to review the evidence about what happened to the little girl has undermined the force's independence and diverted resources from other crime victims


But Sir Paul said it was "the right thing to do" and pledged that Scotland Yard would carry out a thorough appraisal of the original investigation into Madeleine's disappearance in Portugal more than four years ago.
"We are not putting any limits on it at this moment in time," he said.
"We have no timescales yet because we haven't produced the scoping. It will be a significant piece of work."
No Metropolitan Police officers have travelled to Portugal so far but they are in talks with the Portuguese authorities.
Sir Paul said Scotland Yard's international reputation and expertise made it easier for his officers to "open doors" than other organisations.
"Sometimes we need to remind ourselves this is about a vulnerable missing child," he said.
"I am a professional police officer, and when you get a request to do something about a vulnerable missing child, you should take that request very seriously.
"And then you get into negotiations about, is it right that we do it' Can we bring added value to it' And if we can bring added value to it, what is the right circumstance to allow us to do it to make sure that we are making the best use of the operation resources here and giving a fair return to Londoners'"
Madeleine was nearly four when she went missing from her family's holiday flat in Praia da Luz in the Algarve on May 3, 2007 as her parents Kate and Gerry dined with friends nearby.
Portuguese detectives, helped by officers from Leicestershire Police, carried out a massive investigation into her disappearance.
But the official inquiry was formally shelved in July 2008 and since then no police force has been actively looking for the missing child.
Scotland Yard's review of the case, which will be funded by the Home Office, was launched earlier this month after a request from Home Secretary Theresa May supported by Prime Minister David Cameron.
It is being led by Detective Chief Inspector Andy Redwood of the Met's Homicide and Serious Crime Command.
Sir Paul said the final report would not be published.