Investigators remain convinced they can still track down the vanished youngster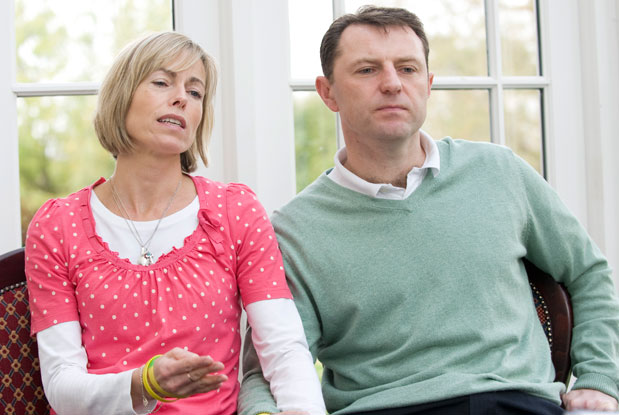 Search ordeal... tortured parents Kate & Gerry
Paul Edwards
THERE are still hundreds of leads to follow up in the hunt for missing Madeleine McCann, we can reveal.
Private investigators say they have 1,900 lines of inquiry to pursue as they search for Maddie, snatched from the Algarve in May 2007 while parents Kate and Gerry holidayed there.
Despite having now ruled out all possible sightings of the youngster, investigators remain convinced they can still track down the vanished youngster.
The revelation of a treasure trove of clues comes as heartbroken mum Kate releases her book Madeleine, which details her family's harrowing ordeal.
A source close to the family said last night: "Kate still strongly believes she will one day find Madeleine. She clings to the belief that she is alive, and we still have 1,900 leads. Many of them relate to information about events at the time in Portugal and many are about what happened after she disappeared.

"She could still be out there in the clutches of a captor. Every piece is taken seriously because it could just be that one fragment of detail that opens up the whole case."
In the book Kate, 43, describes how she is consumed by the fear that Madeleine was snatched by a paedophile. And she told this weekend of the guilt she endures over her daughter's abduction, saying: "I became consumed with it. It was torture for me. It was horrible, so vivid."
A friend said Kate hoped the book would help breathe fresh life into the hunt for Maddie, who vanished days before her fourth birthday.
He added: "She has laboured long and hard over the book. This could get that one person with vital evidence to come forward."
As well as her continuing anguish, Kate has also told of the strain that the disappearance of Madeleine has put on her relationship with husband Gerry, 42.
She said: "I didn't know if I would ever get back to the person I was. I was conscious about the effect this had on Gerry. He needed me to be together and I just couldn't get myself there."
Heart specialist Gerry also told how their love for six-year-old twins Sean and Amelie and support from his and Kate's mums helped them pull through.
He added: "Child abduction could destroy any family. It's one of the most devastating things."