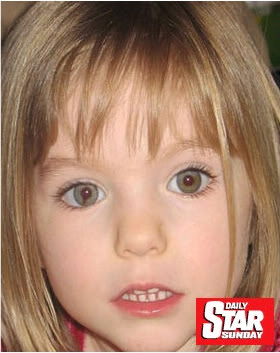 ABOVE: Madeleine McCann's parents Kate and Gerry were in Portugal yesterday appealing for witnesses.
AN estimated 150 children a year are victims of Madeleine McCann-style abductions in Britain.

But campaigners say missing pets are more closely monitored than missing youngsters.

If the Government launched an in-depth probe into each case, as they have done for Madeleine, it would cost nearly a billion pounds.

And an investigation by the Daily Star Sunday has revealed officials have no idea of the exact number of child snatches every year.

Lady Catherine Meyer, of charity Parents & Abducted Children Together, said: 'We know how many dogs go astray but we've no idea how many children are missing or abducted.

'The only thing we have is estimates. How many are abducted' We don't know. We guess about 1,000. And stranger abductions (committed by persons unknown to the family) about 150 but that is a complete estimate.

Why Madeleine's case and not Ben's'
Missing Ben Needham's mum Kerry
'How can we improve the situation unless we know how many children are affected''

Missing People spokeswoman Amalia McGibbon said: 'It is vital that the police record every missing person so organisations can better understand this issue.'

This week the charity will launch a Twitter appeal highlighting the cases of scores of missing kids, including two-year-old Katrice Lee, snatched from a British military base in Germany nearly 30 years ago.

Ben Needham, who vanished on the Greek island of Kos 20 years ago aged 21 months, will also feature.

Ben's mum Kerry, from Sheffield, has written to Prime Minister David Cameron demanding to know why more help isn't being offered to her family, following the announcement of a Met Police review of Madeleine's disappearance in Portugal in 2007.

She wrote: 'Why Madeleine's case and not Ben's''

On Wednesday a Twitter appeal, backed by TV presenter Lorraine Kelly, will feature missing seven-year-old Daniel Entwistle.

He vanished from Great Yarmouth, Norfolk, in May 2003 and has not been seen since.

The case of Andrew Gosden, 14, who vanished on September 14, 2007, after taking a train to London King's Cross station from his home in Doncaster, South Yorkshire, will also be tweeted around the world on International Missing Children's Day.

Kevin, Andrew's father, said: 'We've been over it time and time again but there is no reason we can think of why he went.'

The Maddie review will cost '3.5million ' but the Government would have to spend a billion if it offers other families similar help.


The last government study into children being snatched by strangers was seven years ago.

It found that in 2002-03, there were 798 police reports of child abduction in England and Wales ' an increase of 45% from the previous year.

Sixty-eight were classed as 'successful child abductions by a stranger', with 43 of those found and recovered within 24 hours.

But there was no information about what happened to the remaining 25 victims.

The Daily Star Sunday contacted the Home Office, the Missing Persons Bureau and the Child Exploitation & Online Protection Centre for up-to-date statistics.

No one could provide us with details of how many children are abducted by strangers.

The only statistic the Government could provide was that there were 561 child abductions last year.

But the number of missing children could be as many as 130,000 a year, according to one campaigner.

Meanwhile, Maddie's parents Kate and Gerry were in Portugal yesterday appealing for witnesses.

Kate, 43, said: 'I hope, with all my heart, that everyone remembers we still haven't found Madeleine.

'She is still missing. She needs us and we need to find her and bring her back home to her family.'