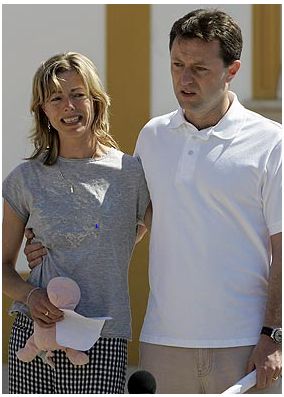 Nightmare ... Kate and Gerry McCann
AFTER a nightmare four months in Portugal, searching for Madeleine and then being made suspects by cops, the time came for Kate and Gerry McCann to return home.

In this extract, edited and abridged by ANTONELLA LAZZERI and OLIVER HARVEY, Kate tells how she and Gerry coped in the familiar surroundings but without the daughter they adored.



WE were going home without Madeleine. I was leaving her behind.
I'm her mother. And I'm leaving her behind.
My heart ached as it was torn away from my last geographical link with my little girl.
So how were we feeling? Full of a confusing mixture of relief, disbelief, oppressive sadness, piercing guilt and pain. The sadness, guilt and pain were dominant.
When we touched down in the Midlands, I couldn't hold back the tears any longer, even though I could see how they were worrying Amelie. We were home at last; home without Madeleine.
Soon we would be walking into our house, the house we'd only ever lived in with Madeleine. My chest hurt, my throat felt swollen and my head began to spin.
Gerry put his arm round me. I glanced up to see the strain on his face and his red, watery eyes. He was being so strong but I knew he was dying inside. Slowly and solemnly, we came down the steps from the aeroplane.
Gerry with a sleeping Sean resting against his chest and me with Amelie, tired but awake, on my hip. What did the future hold for our family now?
A Special Branch officer drove us to Rothley, Leicestershire. As we got closer and closer to our village, memories of so many happy times began to fill my mind, interrupted constantly by chilling reminders of the hard reality of our existence now.
We lifted our sleeping babies out of the car, took a few deep breaths and headed towards the front door.
My Uncle Brian, Auntie Janet and our friend Amanda were already there, waiting to let us in and welcome us home. I cuddled them all, needing to be held tightly, and then I cried and cried and cried.
A short while later, I went upstairs and opened the door to Madeleine's bedroom.
I needed to do this. I needed to feel her close. I didn't go in, I just let my eyes wander round the shocking pink walls and up to the stars on her ceiling, over her teddies and dolls, and then to her bed and her pillow.
I could almost see her there, lying on her side in a foetal position, her little head resting gently on the pillow with her fine, blonde hair spread out artlessly behind. "Lie with me, Mummy."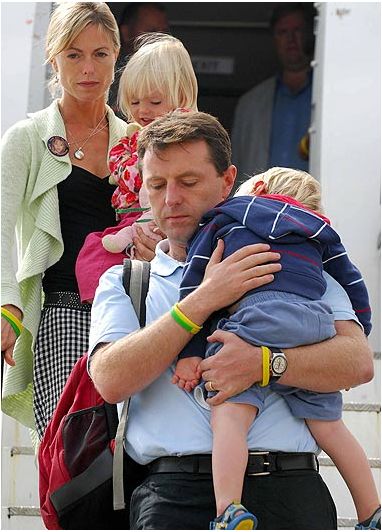 Back home ... but agony went on for Kate and Gerry stepping from the plane with their twins
Being back in our house wasn't as bad, or even as sad, as I'd feared. In fact it was quite comforting. Perhaps just having our own familiar bits and pieces around us relieved some of the stress. Perhaps it was the knowledge that Sean and Amelie were happy to be where they belonged.
Or perhaps it was that the whole house was full of reminders of Madeleine.
Maybe it was a combination of all these consolations. When we climbed into bed shortly before midnight, life felt momentarily tolerable. And we still had our hope. This wasn't over yet. We woke up that Monday morning with a daunting task ahead of us.
Declared arguidos, labelled as suspects in the press and consequently considered by many to be guilty of something, we needed to clear our names, comprehensively and quickly, before we could continue the search for Madeleine on any effective level.
While suspicions remained among the authorities and the public that we had somehow been involved in our daughter's disappearance, fewer people were going to be looking for her. One of the first things we did was to ring our GP. We wanted to make contact with the social services to pre-empt any interest they might be obliged to take in us.
In the light of the headlines and our arguido status, we realised there would be pressure on the authorities to assess the welfare of the twins.
It all seemed so crazy and unfair, but we had to confront it head on. Our doctor came round that Monday morning and we talked things through with him. Wild stories were appearing in the papers about my "fragile" mental state, my "inability to cope" with my "hyperactive" children, eating disorders and sedatives.
All complete bull***t, yet not once had our GP been contacted for any information about us.
The police had not sought access to our medical notes and nobody had ever asked him if we were well and healthy, what kind of people we were, whether he'd ever had any concerns about us or our parenting skills.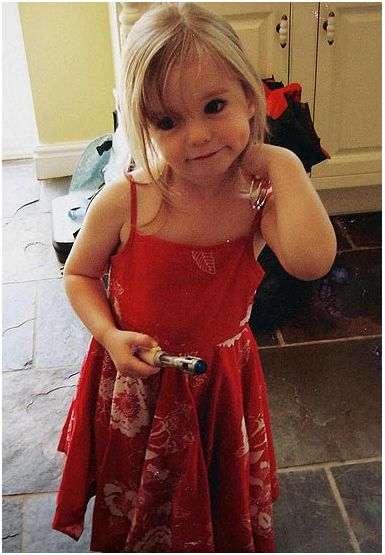 Memories ... the image of a happy playful Madeleine brought comfort
Three days later we had a meeting with a social services manager and a local child-protection officer. They went through various formalities with us and, while they took care to keep everything on a totally professional footing, I could tell they felt uncomfortable about having to subject us to this sort of scrutiny. But we'd resigned ourselves to it.
We'd expected it, accepted it and we had nothing to hide.
Once the twins had settled back where they belonged, they began to feel Madeleine's absence from our home and family more keenly.
A week after our return, Amelie jumped into bed with me at two o'clock in the morning. "Where's Madeleine gone, Mummy?"
Trying not to crumble, I explained to her gently that Madeleine was still missing and that although we hadn't found her yet, we were all still looking.
She asked me the same question when she woke up again five hours later. The children had been away from nursery school for four and a half months. We decided it was probably time they went back. We were prepared for it to take them a few mornings to get used to nursery again. What we hadn't bargained for was the emotional impact it would have on Gerry and me.
Madeleine had started at this nursery at eighteen months and had still been going there when we left for Portugal. It was awash with memories. After lunch, I went to collect Amelie and Sean. As we were getting into the car, Sean asked, "Where's Madeleine?"
Then he answered his own question. "She's round there." He was pointing to an annexe where the older children were based, the place where he remembered Madeleine going each morning.
I recalled how the twins used to stop at the window. "There's Magalin!" they would say in their toddler babble. "There's Magalin!" Their doting big sister would wave at them, bringing beaming smiles to their little faces. God, it hurt.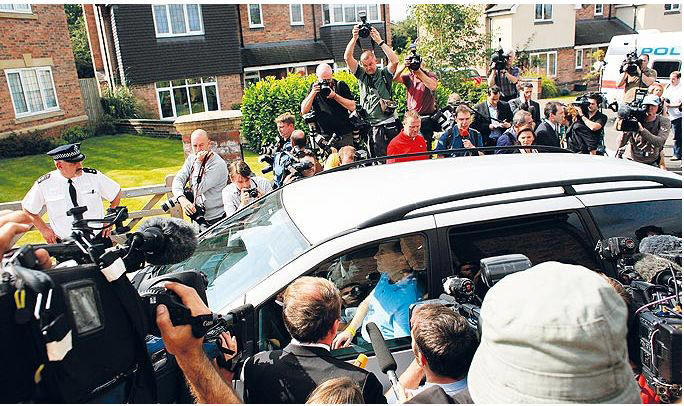 At last ... the McCanns finally arrive at their Leicestershire home
Everywhere I went with the twins, the associations with Madeleine brought back memories that increased the agony.
In the park I could still picture her coming down the slide. At the swimming pool, there she was in her little yellow swimming cap, waving to me as I watched proudly through the window.
But gradually I began to force myself to go on little expeditions that I knew would make Amelie and Sean happy. I took them back to Stonehurst Farm - "our farm". I could see Madeleine feeding the sheep. I could see her talking to the donkeys. I could see her swinging on the rope in the hay barn. I could hear her giggling and I wanted to giggle with her.
Farmer John was coming towards us across the farmyard, shouting, "Tractor ride in five minutes!"
Then he spotted me, and his eyes filled with sorrow. He quickened his stride in our direction and threw his strong farmer's arms around me. He didn't say anything. He didn't need to.
One of the big changes in our life has been the loss of our anonymity - something I'd always taken for granted.
As a direct consequence of becoming known (I can't bring myself to use the word "famous"), I am now very self-conscious in public places.
On one of my first expeditions after our return from Portugal, I went to collect a Jungle Book DVD I'd ordered for the children.
As soon as I stepped out of the car I began to feel very anxious. I didn't want anyone to see me but the arcade was busy. I hurried inside the store, looking down at the floor.
Waiting in a queue at the till, I fought an urge to run out of the shop. It was all taking too long, I felt exposed and the tears were welling up. Served at last, I was rushing out of the arcade clutching my DVD when somebody grabbed my arm. It was a former colleague.
I burst out crying and she hugged me tightly as people manoeuvred their way round us.
"Kate, you look so scared," she said. "Hold your head up. You have nothing to feel bad about."
I worried that if people saw me smile or laugh, they'd think it inappropriate. After all, I thought it inappropriate myself. I worried that if they noticed me out and about they'd be saying, "How could she? I just couldn't if it were me".
There were several occasions when I was out with Sean and Amelie and one or other of them would have a tantrum.
They were toddlers, they were doing what every toddler does, but I was afraid that people would judge my children and the way I dealt with their behaviour.
Would they think the twins were unhappy or traumatised, or scared of me? That there were problems in our family? What would they tell their friends?
Now, though, with everyone watching me, I didn't feel I could speak firmly to them in public, let alone raise my voice. I usually found myself trying ever so hard to reason with them, or gently asking them to please stop.
The attention of strangers isn't all bad, of course. It is heartening and comforting when shoppers come up to me in the supermarket and say, "How are you, Kate? We're all behind you."