Appeal... Kate and Gerry McCann with Lorraine Kelly, holding The Sun
Telling them he sincerely hoped his action would give their hunt "the new momentum that it needs", the PM also promised to stay "in close touch" with the couple throughout.
He added: "I know that everyone hopes and prays for a successful outcome, and our thoughts remain with you and your family."
Madeleine, of Rothley, Leics, was abducted while on holiday in Praia da Luz, Portugal, on May 3, 2007.
Kate, whose book on her daughter - titled simply Madeleine - has been serialised all week in The Sun, admitted this week that the couple's own efforts to trace the missing girl "don't seem to be working".
She and heart consultant Gerry appeared on Sun columnist Lorraine Kelly's ITV1 show yesterday morning, where Gerry said: "We want people to read the book because it puts what's happened to us and what we are doing in context. But more than anything, we want the public to get behind the search for Madeleine like they did in 2007."
We can reveal Home Office officials have been secretly working on re-opening the hunt for Maddie for nine months.
Kate and Gerry spent an hour with Mrs May in August last year to request her help with their fruitless search.
After that, the Home Secretary quietly ordered her officials to liaise with international law enforcement agencies and do what they could in the hope of sparking a new development in the case.
Mrs May told The Sun last night: "We all want to see this beautiful little girl returned to her parents. That's why we have been doing everything we can behind the scenes."
The only British police involvement in Madeleine's case prior to last night's announcement was carried out on behalf of the Portuguese cops.
Leicestershire Police, the McCanns' local force, were the "liaison force" responsible for collating all investigation work by officers across the UK.
The British police, at the request of their Portuguese counterparts, carried out interviews with UK witnesses and also collated sightings reported to police in this country.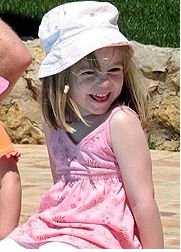 Search ... Maddie McCann
All the information was then sent on to Portuguese police. There was never a British investigation into Madeleine's disappearance as her abduction happened in Portugal.
The case review last night won cross-party backing in Westminster.
Shadow Home Secretary Yvonne Cooper said: "We fully back the McCanns' request for information in Madeleine's case to be reviewed.
"Any overlooked piece of this jigsaw could be important. A British child is missing, and the British authorities should do everything in their power to help in the search."
Madeleine's parents have been campaigning for a review for several years. They feel it is "crucial" to finding their daughter, fearing vital leads, sightings and other clues are buried away in Portuguese police files.
They are desperately hoping that a fresh look at the files, similar to a criminal "cold case" review, may discover something that was overlooked in the original investigation.
Gerry said: "The files are not held on a single database. By putting them all together we could discover that vital piece of the jigsaw."
All the files relating to Madeleine's case are held by the Portuguese Judiciary in Portimao - including witness statements and details of sightings.
More than 30,000 pages were released after the Portuguese investigation was shelved in 2008, but some were held back, with police insisting they could not be made public.
Last night Kate and Gerry told The Sun: "We welcome the Government's response. This is clearly a step in the right direction.
"The expertise of the Metropolitan Police is renowned and we are reassured by our government's commitment to the search for Madeleine.
"We would like to thank Mr Cameron and the Home Secretary for committing such a significant resource as the Metropolitan Police to begin the review process. We would also specifically like to thank The Sun, News International, and the general public for supporting the campaign to find Madeleine in the way they have."