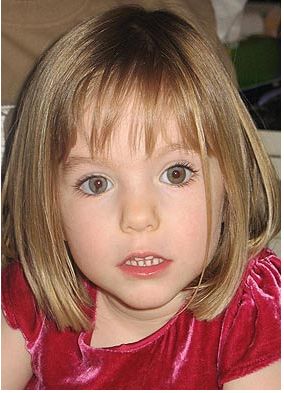 Victim ... Maddie went missing four years ago
McCanns' letter to
David Cameron
Dear Prime Minister
As a devoted father and family man, you know the importance of children. Our beloved eldest child, Madeleine, was abducted from Praia da Luz, Portugal, four years ago. Since then, we have devoted all our energies to ensuring her safe return.
Today we are asking you - and the British and Portuguese governments - to help find Madeleine and bring her back to her loving family.
We live in hope that Madeleine will be found alive and returned to us. One call might be all that is needed to lead to Madeleine and her abductor.
To this end, we are seeking a joint INDEPENDENT, TRANSPARENT and COMPREHENSIVE review of ALL information held in relation to Madeleine's disappearance. Thus far, there has been NO formal review of the material held by the police authorities - which is routine practice in most major unsolved crimes.
It is not right that a young vulnerable British citizen has essentially been given up on. This remains an unsolved case of a missing child. Children are our most precious gift.
Please don't give up on Madeleine.
Kate & Gerry McCann
myView
By ANTONIO PINTO, Portuguese legal expert
I DO not think it is a bad thing if Madeleine's case is reopened by other prosecutors and other investigators to scrutinise for possible shortcomings in the existing investigation.
It seems reasonable to do so because it is very strange that a girl is missing and that nothing is done. The problem for the Portuguese police is that, as the law stands, it does not provide for the re-opening of the case without new evidence.
But although there is no provision in the law, the law does not outlaw it - so it would seem reasonable that this could happen.
KATE and Gerry McCann received a boost from PM David Cameron in their bid to re-launch the search for their abducted daughter Madeleine.
The couple called on the Prime Minister to press for a full independent and transparent review by the Portuguese and British authorities into Madeleine's case.
They made their plea in an open letter delivered to Number Ten Downing Street on their behalf by The Sun last night.
Today Downing Street said the Government was looking at how it could help.
The Prime Minister's spokesman said: "We are considering what they have said and seeing if there is anything more we can do."
"We are thinking about what we can do to help."
Speaking at the launch of Kate's new book about the family's ordeal, Gerry referred to the death of Mr Cameron's severely disabled six-year-old son Ivan two years ago.
He said: "Of course he's suffered his own loss, and I'm sure he is a loving father, so he will understand what we've gone through."
But he disclosed his frustration at the lack of progress since he and his wife first asked for a full cold case review in 2009.
Gerry added: "We really have come to the end of our tether. We want to see action from the Government, not rhetoric."
Kate said: "When you're in a position such as the Prime Minister, you have a responsibility. If you're not willing to work for a child, you have to ask, 'who are you working for''"
In the McCanns' moving letter they recognised Mr Cameron as a "devoted" father and family man who knows the importance of children.
They pleaded with the Prime Minister to help bring Madeleine back where she belongs - to her loving family. After years of failed police investigations and fruitless appeals to politicians for help, a proper review of information could, the pair believe, provide the key to finding their precious little girl.
Today is Madeleine's eighth birthday, but she has been missing for more than four years since she was abducted from a Portuguese holiday apartment in May, 2007.
Kate, 43, told The Sun yesterday: "I hope Mr Cameron will take responsibility for one of his most vulnerable citizens.
"Madeleine is not disposable. She should not be dismissed and brushed aside as 'just one child from just one family'.
"She's a British child, she's still missing, and she matters."
The Sun today throws its weight behind the family's efforts with the start of a petition, above, for readers to sign. It urges the British and Portuguese authorities to co-operate and conduct an independent and transparent review of all information in relation to the disappearance.

MADDIE HOTLINE 0845 838 4699 or email investigation@findmadeleine.com
It could be conducted by senior legal figures, criminologists and senior police from each country, or even by international police organisation Interpol, which hosts case reviews.
Kate, whose book Madeleine has been serialised all week in Britain's favourite newspaper, added: "We're very grateful for this campaign push, and especially to the general public who we are hoping will get behind us in this.
"We need their help as our own efforts don't seem to be working. We don't seem to be making any progress with the Government on our own."
Kate added: "We hope David Cameron will show he cares about children - about Madeleine, about one of his citizens, and demonstrates this not just with words but with actions.
"We hope he and his Government will approach their counterparts in Portugal and broach, with intent to achieve, our request for a review. And that co-operation will be forthcoming - something I'd expect from belonging to a European 'Union'."
The original Portuguese police inquiry failed to find any trace of Madeleine or her abductor - and, after initial assistance from British police, the family have had little contact in the past year and are simply told: "It's a Portuguese investigation."
In fact, NO law enforcement agency is now actively searching for Madeleine. The family's own investigators are still working, but they do not have access to masses of material held by police authorities.
There has been no formal review of the inquiry - a process which could unearth a key piece of the jigsaw.
The McCanns' attempts to get political support for the search have so far got nowhere. Ex-PM Gordon Brown was supportive and understanding when Gerry spoke with him by phone in May, 2007 - but not much changed.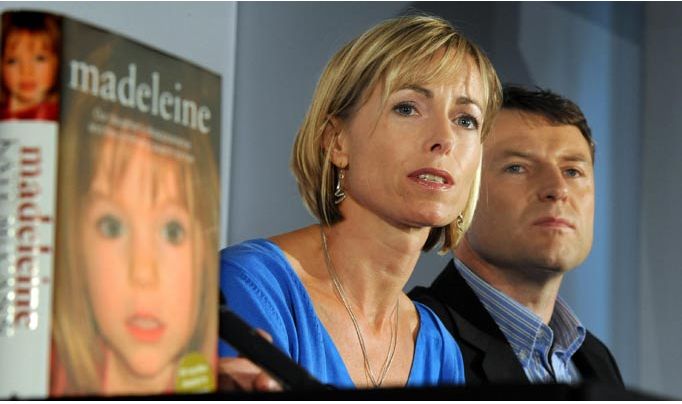 Plea ... Kate and Gerry issue call at press conference today
Meetings followed with a series of figures, including successive Home Secretaries Jacqui Smith, Alan Johnson and Theresa May.
Early last year the McCanns were told a "scoping" exercise was being carried out within the Home Office to assess the feasibility of an independent review. But they were not told what conclusion it had reached.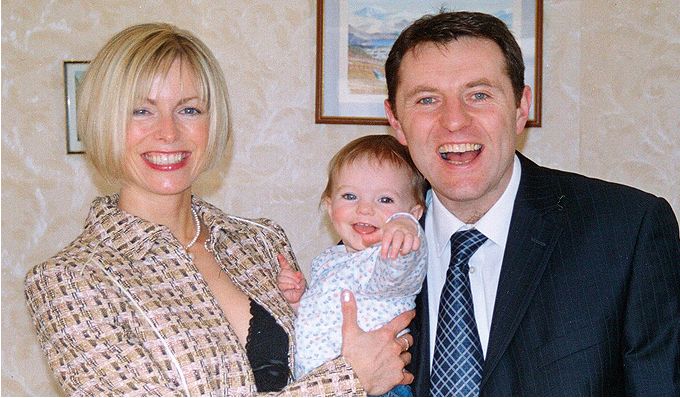 A family's joy ... Kate and Gerry are all smiles with Madeleine as baby
Leicestershire Police, the McCanns' local force in Rothley, are the liaison between the UK and the Portuguese authorities on the probe.
The force holds detailed files from UK inquiries. Most have not been shown to Kate and Gerry.
Now the couple are pinning their hopes on the Prime Minister.
Gerry, 42, said: "There has been no formal review of the material held by the police authorities, which is routine practice in most countries and especially when a key piece of the jigsaw may have been overlooked.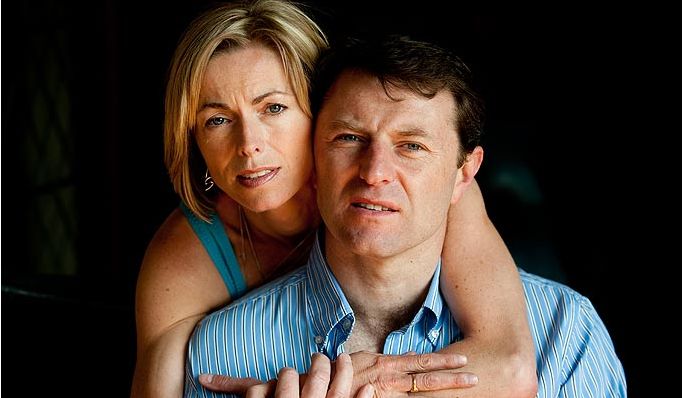 Plea ... Kate and Gerry McCann
"We need more of a co-ordinated response. A review could be crucial. One call may be all we need to find Madeleine and whoever took her."

After The Sun delivered the McCanns' letter to No10 last night, the PM's spokeswoman said: "The Prime Minister met Kate and Gerry McCann while Leader of the Opposition, and he has followed their plight very closely.

"He and the Home Secretary want to make sure the Government does all it can to help them."