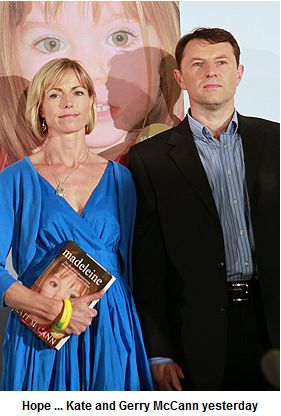 Hope for Kate and Gerry in return to Portugal
By ANTONELLA LAZZERI
MADELEINE'S parents will return to Portugal next week with new hope in the search for their abducted daughter.
The couple will launch Kate's new book, aimed at boosting the investigation.
Kate and Gerry will travel to capital Lisbon for the release of an edition translated into Portuguese.
They hope it will tell their side of the story to the Portuguese people.
Titled simply Madeleine, it is already set to be a No1 bestseller in the UK after being serialised all week in The Sun.
Kate, 43, said: "I don't feel we have had the chance to tell our side of the story in Portugal yet.
"I am hoping people will read the book and realise what kind of people we are - loving parents."
Cardiologist Gerry, 42, added: "I think there are a lot of cultural differences and sometimes people there didn't understand why we did certain things and the book will hopefully address that."
Kate and Gerry believe vital clues - a missing piece of the "jigsaw" - may be buried away in Portuguese police files.
But last night the Portuguese former police chief who was sacked from the investigation launched a vile attack on Kate.
Referring to other cases Kate described, of intruders attacking British children in their Portuguese holiday homes, Detective Goncalo Amaral ranted: "There are no cases of child abuse in Portugal. Kate lies, telling that.
"Tourists like her are not needed, mothers neglecting their children, that loses a child on holiday after dinner when she was drinking in a bar until midnight."
Clarence Mitchell, the McCanns' spokesman, said: "Kate and Gerry will not respond to, or dignify, his predictable comments."
Gerry said of the case review: "I'm sure it will go a long way to addressing one of our key disgruntlements, that British police had lots of information that was just sitting there with no one looking at it."
Kate was surprised the PM ordered the review so fast. She said: "We weren't expecting to hear anything until next week."
THE Metropolitan Police was last night setting up its special squad to review the Madeleine McCann case - as a former top cop said: "If something's been missed they will find it."
A team from the Homicide and Serious Crime Command is being assembled under a senior investigating officer expected to be appointed today.
Initially around ten officers will work on the review - rising dramatically if new evidence is found
It is expected a scenes-of-crime officer and a forensic scientist will be among them.
The team will review witness statements, make a fresh appeal for information and carefully re-check alibis given after three-year-old Madeleine was abducted on holiday in Praia da Luz, Portugal, on May 3, 2007.
John O'Connor, former Commander of the Flying Squad at New Scotland Yard, said: "They will be looking for something that has been overlooked or not developed which could lead to a fresh line of enquiry.
"A sighting, a tip-off, something that didn't ring bells at the time but could be vital.
"It is not inconceivable that something major could have been missed in an investigation of this size and complexity.
"I firmly believe that if there is something to be found this Scotland Yard review will uncover it."
Portuguese police have pledged to co-operate after lobbying by Joanna Kuenssberg O'Sullivan, Charged'Affaires at the British Embassy in capital Lisbon.
The ball started rolling after Madeleine's parents Kate and Gerry wrote a heartfelt open letter to PM David Cameron in Thursday's Sun to request a review of the case
It prompted Mr Cameron and Home Secretary Theresa May to ask Met Commissioner Sir Paul Stephenson to use his force's expertise on the case.
The team will meet Kate, 43, and Gerry, 42, from Rothley, Leics.
A senior Met source said: "They'll be gently told not to raise their hopes too much - four years have elapsed since she vanished and the trail has long gone cold. But the team will promise them they will do all they can to move things on."
The team will then visit officers in Leicestershire - the UK liaison force in the hunt - before flying to Portugal next week. The source said: "Our role will be to assist the Portuguese police. They'll take the lead because Madeleine disappeared there."
Mr O'Connor added: "It's imperative the two sides work well together. Attending the crime scene and re-examining forensic exhibits will be a delicate task to be handled with diplomacy.
"They cannot afford to give the impression they are showing the Portuguese how it should be done - that could be catastrophic."
He added: "One can sense the relief in the McCanns that something positive is happening at last.
"There can be no closure for them until they know exactly what happened. Please God this will put an end to their ordeal."
Blast for peer who says
Met review is 'a waste'

By TOM NEWTON DUNN, Political Editor
A LABOUR peer sparked fury yesterday - by branding the Met case review a waste of money.
Lord Harris also said David Cameron's request was political interference with police business.
He said: "What we are looking at is a case where the Met has no direct responsibility. There is clearly an issue about the resources being used."
Harris, a member of the Metropolitan Police Authority, added: "It's not just a question of direct costs - it's a question of opportunity costs too.
"Our detective capacity is limited as it is."
No10 hit back at the claim the PM was interfering in police business.
His official spokesman said he made "a request, not a direction" for a review.
Asked why other families with missing children were not offered the same treatment, he replied: "It's quite an exceptional case. It's been going on for some time and there's a huge amount of public interest.
"The Prime Minister has been very clear that he wants to do everything we can to support the family."
The Met confirmed Commissioner Sir Paul Stephenson was asked, not told, "to provide expertise".
A spokesman said: "He took the decision it was the right thing to do."
There were suggestions yesterday that the review could take millions away from fighting crime.
But Home Secretary Theresa May has agreed to foot the bill from her department's excess budget.
Labour yesterday insisted Lord Harris's opinion was not shared by the party.
Leader Ed Miliband's spokesman said: "Lord Harris does not represent the party's view."
Shadow Home Secretary Yvette Cooper added: "We fully back Kate and Gerry McCann's request for information to be reviewed. Any overlooked piece of this jigsaw could be important."