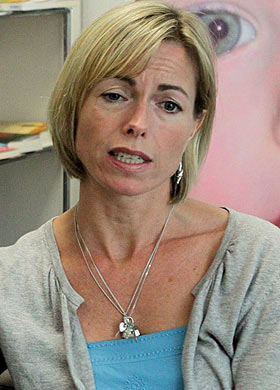 Plea ... Kate McCann yesterday
KATE McCann yesterday told the people of Portugal of her fury at claims that her missing daughter Madeleine was dead.
She said: "This left us very angry and upset. We were devastated."
Kate, 43, also told the Portuguese media of their pain when police hinted the couple were behind Maddie's disappearance.
She said it may have hindered the search and added: "We need to find Madeleine to bring her back home."
Kate and husband Gerry, 42, from Rothley, Leics, are in Portugal to launch her book Madeleine, serialised in The Sun.
It is the first time they have returned since PM David Cameron asked for a case review.
Asked if she feared it would upset the Portuguese Judiciary, who carried out the original inquiry, Kate said: "Maddie remains missing. Is not that more important?" Her eldest daughter, then three, vanished from their holiday flat in Praia da Luz four years ago