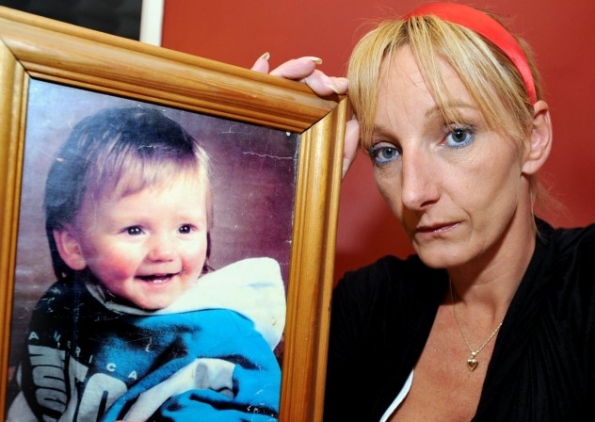 Kerry Needham with a picture of missing Ben when he was 18 months old.
The loving Sheffield mum of missing Ben Needham, who disappeared 20 years ago, is hoping the personal appeal by Madeleine McCann's parents to David Cameron will help reunite her with her son.
Ben vanished in 1991 from the Greek holiday island of Kos when he was just a toddler but mum Kerry Grist is convinced he is still alive.
She has twice contacted the Prime Minister but has only ever received formal acknowledgments without any offers of help from Scotland Yard.
Kerry, of Ecclesfield, welcomed Mr Cameron's intervention in the McCann case and is hoping any inquiries by Scotland Yard could help locate Ben, whose 21st birthday was last October.
Kerry, aged 36, said : "I am happy to see the government's involvement with reviewing missing people's cases abroad.
"I am pleased for the McCann family and look forward to the government offering the same support to all families with loved ones missing."
Kerry's 17-year-old daughter Leighanna said: "Mum was really upset when she heard the news that David Cameron has asked Scotland Yard to help find Madeleine.
"She is delighted for the McCann family and she hopes this will help find their daughter. But she is upset because she wrote to Mr Cameron last year asking him for help finding Ben.
"We did get a reply but it was just a formal one. We're just hoping now that the new publicity and Mr Cameron's involvement with the McCanns will help in some way to find Ben."
Kerry has criticised police for never sending officers over when Ben disappeared to liaise with local police.
She added: "A precedent was set when Madeleine McCann went missing. That never happened for Ben and the same should have been done for my son.
"The police on Kos were so inexperienced, they just did not know how to handle Ben's disappearance.
"Because it was classed as a Greek investigation, Britain never sent any police officers across at the start and, to this day not one officer has ever gone across.
"They say the case has never been closed but I want the British police to launch their own investigation, reviewing everything the Greek authorities have done and starting afresh."
Ben was just 21 months old when he disappeared in 1991, minutes after going out to play at a farmhouse, which his grandfather was renovating in the village of Iraklise. Kerry was working as a waitress on the island at the time.
Investigators suspect the blonde-haired child was abducted by a gypsy gang and sold to a childless couple.
Over the years there have been dozens of sightings around the world of a child and later a teenager answering to Ben's description.
A South Yorkshire police spokesman said: "Primacy for the investigation will always lie with the Greek authorities. We have explained the situation to Ben's family and continue to support the Greek police in their investigation providing them with any new information on potential sightings of Ben that may assist.
"We continue to keep Ben's family updated with the case and our sympathies remain with them."