Her new book reveals the torment behind her composure after Madeleine was abducted and how her marriage was nearly destroyed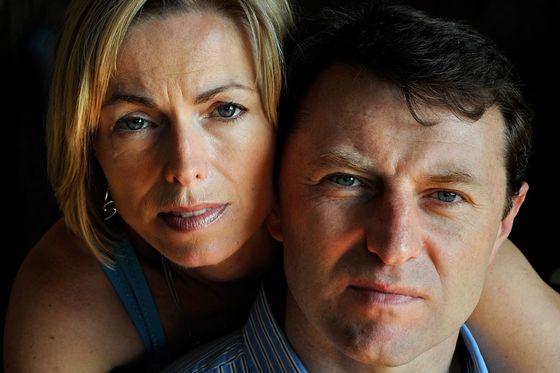 Kate McCann, with her husband Gerry: 'Wednesday, May 2, was our last completely happy day. Our last, to date, as a family of five. If only it were possible to rewind. Even for an hour'Photograph: TNL
Kate McCann, whose apparently controlled response to her daughter Madeleine's abduction four years ago turned her into a hate figure, has revealed her near-suicidal anguish and how deep depression threatened to destroy her marriage.

Madeleine was three years old when she was snatched from the McCanns' holiday apartment in Praia da Luz, Portugal, as her parents dined with friends on the final night of a spring break in May 2007.
Madeleine and her brother and sister, twins Sean and Amelie, now aged six, had been left alone in the apartment while Kate and Gerry McCann dined close by, checking on the children every half-hour.
On one of these checks Kate McCann discovered the bedroom window open, the shutter raised from the outside and her daughter missing. She ran outside screaming, "Madeleine's gone! Someone's taken her!" However, during the following days McCann appeared curiously composed.
Her new book, Madeleine, tells the story of her daughter's disappearance. She says she went into shock. "It's quite frightening when I see myself in those early days," she says. "To me I look incredibly fragile and confused and lost."
Within hours of Madeleine's kidnapping, internet forums were abuzz with comments from people who did not believe the couple's story or regarded Kate McCann as "a cold, emotionless woman" — criticism that intensified as interest in the story turned to near-hysteria.
In private she was breaking down in front of friends and relations who had flown to Portugal to care for her.
She writes: "I had an overwhelming urge to swim out across the ocean, as hard and as fast as I could; to swim and swim and swim until I was so far out and so exhausted I could just allow the water to pull me under and relieve me of this torment.
"I wasn't keeping that desire to myself, either. I was shouting it out to anyone who happened to be in the room. Both this urge and the expression of it were, I suppose, an outlet for the crucifying anguish.
"Somehow, inflicting physical pain on myself seemed to be the only possible way of escaping my internal pain. The other truly awful manifestation of what I was feeling was a macabre slide show of vivid pictures in my brain that taunted me relentlessly.
"I was crying out that I could see Madeleine lying, cold and mottled, on a big grey stone slab. Looking back, seeing me like this must have been terrible for my friends and relatives, particularly my parents, but I couldn't help myself."
She continued to have "flashes of Madeleine in my head being hurt, abused and screaming for us". After the couple returned to Britain without their daughter, she fell into a depression.
She became obsessed with Madeleine, her mind full of dark imaginings, to the exasperation of her husband whose ability to "switch off" seemed almost callous to her.
"Gerry was functioning much sooner than I was. I sometimes found it almost offensive as if somehow he wasn't grieving enough," she writes. "He would suggest doing something nice — and I would cry."
Her every waking moment was suffused with a sense of Madeleine's suffering and fear. "It was a long time before I was able to allow myself to take real pleasure in anything. I couldn't watch television, read a book, listen to music... How could I possibly take pleasure in anything without my daughter?"
She has written the book to raise money for the Find Madeleine campaign. The McCanns would like the British government to urge the Portuguese to review the case.