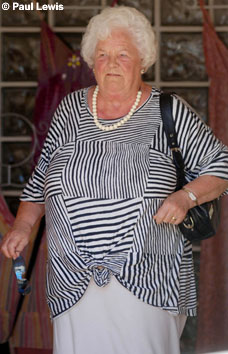 Mrs Pamela Fenn
THE agonising moment when Madeleine McCann's parents realised she was missing was revealed last night by a fresh witness.

Detectives were told Kate McCann cried hysterically after discovering that her daughter had vanished.

She sobbed "We've let her down, we've let her down" as she and her husband Gerry frantically searched for the little girl. The extraordinary details of the panic and confusion were given by a neighbour of the McCanns at the apartment block in Praia da Luz from where four-year-old Madeleine went missing 112 days ago.

Expatriate Pamela Fenn, 81, who lives in the flat above where the McCanns were staying, was re-interviewed by detectives on Monday after it emerged that she might have fresh clues.

Widow Mrs Fenn told police that two nights before Madeleine went missing she heard a little girl in the apartment crying for over an hour.

She said the toddler, who is believed to have been Madeleine, was crying "Daddy, daddy" constantly between 10.30 and 11.45pm.

The crying had stopped when the parents returned to the apartment.

On the night Madeleine disappeared, Mrs Fenn also heard a child crying, but it was when Kate returned from a nearby restaurant to check on her daughter that she was first aware something was wrong.

A source close to Mrs Fenn said: "She often sits on the balcony at night and heard a commotion downstairs.
"She heard the woman who she now knows to be Kate crying 'We have let her down, we have let her down'."

The source added: "She did not understand what was meant by this, but she asked if they wanted her to call the police. She was told it had already been done."

Mrs Fenn has also told police about an attempted burglary at her apartment several weeks earlier.

She said a man broke in through the first-floor window but she disturbed him and he jumped out of it.

The source said: "She did not think it was significant. She has lived in Luz for some time and at her previous address was the victim of burglaries on a regular basis.

"There are lots of drug addicts in the area who prey on tourist apartments. Nothing was taken so she did not initially report it to the police."

The report of an intruder echoes the experience of a Scottish holidaymaker at the Ocean Club resort just three weeks before Madeleine went missing.

The woman told police that an intruder used a key to enter her apartment at the Mark Warner-run resort on the first night of her stay, making off with personal belongings and £500 worth of currency.

"It was in the same block as the one where the little girl was taken from," she said. "The police were called. They told us someone with a key had got into the flat.

"There was no proof of that but that was their opinion, as there was nothing else disturbed. There were no broken windows and no forced entry."

Mrs Fenn told police that she had a niece from Britain staying with her in the week the McCanns were on holiday there.

Her niece, who has now been interviewed by detectives in Britain, spotted a suspicious looking man hanging around the McCanns' apartment about the time Madeleine disappeared.

She told detectives that he matched the description of a suspect seen by Jane Tanner, one of the McCanns' holiday friends. Miss Tanner reported seeing the man rushing away from the apartment with a child wrapped in a blanket under his arm.

A second witness spotted the man minutes later rushing past the church in the resort and heading to the sea front.

The dark-haired man was wearing white trousers and a dark jacket.

Remarkably, given her close proximity to the scene, Mrs Fenn had not been interviewed fully by detectives in the days after Madeleine vanished.

It was only after a team of British officers were called in that her information was acted upon and officers from Portimao police headquarters spent more than three hours going over her statement in fine detail.

Mrs Fenn page 75
Then a lady appeared on a balcony – I'm fairly certain this was about 11pm, before the police arrived – and, in a plummy voice, inquired, 'Can someone tell me what all the noise is about?' I explained as clearly as I was able, given the state I was in, that my little girl had been stolen from her bed, to which she casually responded, 'Oh, I see,' almost as if she'd just been told that a can of beans had fallen off a kitchen shelf. I remember feeling both shocked and angry at this woefully inadequate and apparently unconcerned reaction. I recollect that in our outrage, Fiona and I shouted back something rather short and to the point.