Prayers and tributes across Britain and Portugal have marked the passing of 100 days since the disappearance of four-year-old Madeleine McCann.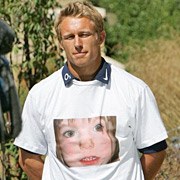 England rugby players help campaign
:: To listen to the tune, click here (opens an mp3 file)
:: To download the music sheet for the tune, click here (opens a pdf file)
The ongoing search for Madeleine was highlighted at many sporting events.
A short film recorded by Jonny Wilkinson appealing to people to support the campaign to find the missing girl was shown at half-time during this Saturday's Rugby World Cup warm-up match against France at Twickenham.
Everton - the football team supported by Madeleine and Kate McCann - showed a video of the youngster during their season opener against Wigan.
Many other Premiership clubs also showed their solidarity with Madeleine and her family.
Meanwhile, Mrs McCann's parents distributed posters, stickers and balloons to members of the public in Church Street, Liverpool.
In Portugal, Kate and Gerry McCann, took their two-year-old twins Sean and Amelie to Praia da Luz's church of Nossa Senhora da Luz for a special service of prayers of hope.
The readings, hymns and prayers were all chosen with children in mind, and the couple invited other families to attend.
Hymns sung included Away In A Manger and Lord Of The Dance, and there were prayers for Madeleine and other missing children.
Father Haynes Hubbard, the Canadian Anglican priest for the Algarve, led the service.
Mr and Mrs McCann, who are both Catholic, have spoken of how their faith has helped them through the torment of the past 100 days.