POLICE hunting for missing Madeleine McCann discovered a syringe in her parents' bedroom, it was dramatically claimed last night

In the latest slur against Kate and Gerry McCann, the hypodermic needle was allegedly found in a cupboard at the apartment where their daughter vanished.

According to reports in the Portuguese press, police are examining the theory that the needle could have been used by Madeleine's parents -both doctors - to administer sedatives to their children to help them sleep.

Hurtful and unfounded rumours in the Portuguese media claim that detectives are convinced the couple accidentally killed four-year-old Madeleine by giving her an overdose of sedatives.

Last night a spokeswoman for the couple angrily denied the latest slurs and insisted that the McCanns had never sedated their children.

She said: "I can categorically say the McCanns did not have syringes or sedatives with them on holiday. They do not use sedatives on their children. This story is absolute nonsense, it is totally untrue".

The allegations are the latest in a long line of vicious attacks the McCanns have been forced to endure while desperately waiting for news of their daughter.

But there has been a significant shift in the tone of the attacks in recent days, with a number of Portuguese papers now accusing the McCanns outright of killing their daughter.

The respected Correio da Manha paper wrote yesterday: Madeleine's parents
kept a tranquiliser kit in the cupboard of the Ocean Club bedroom".

The paper went on to claim that weight was being given to the theory of an accidental overdose because the McCanns other children, two-year-old twins
Sean and Amelie, had not woken up on the night Madeleine vanished 119 days ago, despite the noise and confusion around them.

The paper also quoted Gerry McCann insisting that the twins were very sound sleepers and tired after an exhausting day playing in the pool.

The allegations were attributed to a source close to the investigation, but Portuguese police last night refused to comment.

The police, who are not allowed to speak about the investigation because of Portugal's strict secrecy laws, have always maintained that the McCanns are not and never have been suspects.

The allegations also clash with evidence provided by British ex-pat Pamela Fenn, who lives in the apartment above the one from which Madeleine disappeared.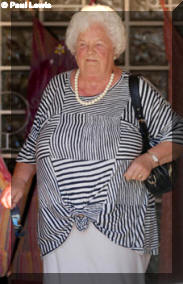 Pamela Fenn
Mrs Fenn, 81, told the police that two nights before the incident she heard a little girl loudly crying, "Daddy, daddy" in the apartment.

She said the crying had lasted for some time, but stopped when the McCanns returned to the apartment after dinner.

This would suggest the children were not being regularly sedated and were, in fact, wide awake after being put to bed.

Gerry and Kate, both 39, have always borne the attacks with dignity and good grace, but last week in an interview with British journalists Gerry finally snapped and responded to the accusations.

He said: "It is just so absurd, it is just not credible. It's incredibly hurtful and incredibly untrue".

"Even if somebody could think that, there is absolutely no evidence pointing in that direction."

Gerry also stormed out of a television interview after a Spanish reporter questioned him about claims that blood had been found in their apartment.

The outbursts are being seen as a sign of his growing frustration with the lack of progress in the investigation and his determination to protect his family from vindictive slurs.

Meanwhile, detectives continue to await the results of forensic tests being carried out on a number of pieces of evidence discovered in and around Praia da Luz.

It is believed that the DNA tests could provide a crucial breakthrough.

Portuguese police have a team of officers on stand-by ready to move in on a suspect as soon as the tests are confirmed.
Mrs Fenn page 75
Then a lady appeared on a balcony – I'm fairly certain this was about 11pm, before the police arrived – and, in a plummy voice, inquired, 'Can someone tell me what all the noise is about?' I explained as clearly as I was able, given the state I was in, that my little girl had been stolen from her bed, to which she casually responded, 'Oh, I see,' almost as if she'd just been told that a can of beans had fallen off a kitchen shelf. I remember feeling both shocked and angry at this woefully inadequate and apparently unconcerned reaction. I recollect that in our outrage, Fiona and I shouted back something rather short and to the point.