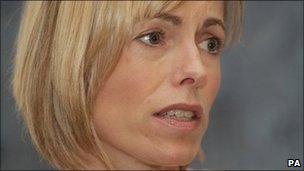 Kate McCann will be among the mothers of missing children to give evidence at the inquiry
The government is being urged to improve support for the "heartbroken" families of people who go missing.
The UK's first parliamentary inquiry into the issue will look at what campaigners say is a "complete gap" in help for those affected.
Among those giving evidence later will be three mothers of missing children, including Kate McCann, whose daughter Madeleine disappeared abroad in 2007.
The inquiry will make recommendations to the coalition government.
As well as Mrs McCann, from Rothley, Leicestershire, the inquiry will hear from mothers Sarah Godwin, whose son Quentin was 18 when he went missing in New Zealand while on his way to an after-school job in 1992, and Nicki Durbin.
Mrs Godwin said her son could be anywhere, but has strong roots with England because she is from England and he was very close to her English parents, who have since died.

'Living nightmare'
She told the BBC: "I think it's the connectivity that's really important for the families, or people who are struggling with a missing relative, not to have to search around and work out who to talk to."
She said Quentin had left behind a letter which could be read as a suicide note, and the police stepped in and did "as much as they could".
"It just takes over your life, it becomes an all-absorbing and all-engrossing area of your life," she said.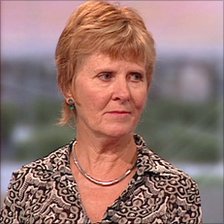 Mrs Godwin says dealing with a missing relative "takes over your life"
"You're driving down the road and you're looking at people walking up the street to see if you can see their faces, but it's the long-term that's really the hard road."
She said that, when she meets other parents as the inquiry later on Monday, it will be her first face-to-face encounter with someone in the same situation.
Mrs McCann, whose daughter Madeleine was three went she went missing during a family holiday in Portugal, will tell the inquiry: "When someone you love goes missing, you are left with unimaginable, unending heartbreak, confusion, guilt, and worry.

"In addition to the reassurance that everything possible is being done to find their missing loved one, families need support. And they should be spared the additional pain of financial and legal bureaucracy."
Ms Durbin, whose son Luke disappeared after a night out in Ipswich five years ago, said: "It sounds like such a cliche, but it is a living nightmare. Personally, there isn't an hour of a day that goes by without me thinking about Luke.
"If my house was burgled, I would have got support. And that would have obviously been emotional support, legal support. When I reported Luke missing, there was nothing. And there still isn't anything."
There were no advisory organisations out there to help us to know what to expect?
End Quote Rachel Elias Sister of missing Manic Street Preachers guitarist Richey Edwards
She has been backed by the charity Missing People, which says that after 48 hours relatives should be given support similar to that given to the victims of serious crime.
This includes a dedicated police officer as well as emotional and practical advice.
Chief executive Martin Houghton-Brown said all families of missing people are immediately "plunged into emotional distress".
"But if the person going missing is also earning money for the family, they may be placed in financial or legal difficulties as well," he told the BBC.
He said that, where police investigations go on for weeks or months, families needed to be kept in touch with a "constant drip" of information.
MPs at the inquiry will also hear from Peter Davies, the chief executive of the Child Exploitation and Online Protection Centre (Ceop), and Home Office Minister James Brokenshire.
There were no advisory organisations out there to help us to know what to expect?
Rachel Elias Sister of missing Manic Street Preachers guitarist Richey Edward
Registering deaths
Peter Lawrence, father of missing York chef Claudia Lawrence, will give evidence later in the week along with Rachel Elias, the sister of missing Manic Street Preachers guitarist Richey Edwards.
The inquiry will also consider calls to make it easier to register the death of a missing person whose body has not been found. This is in order to sort out their financial and legal affairs.
Courts can be asked to declare someone dead after seven years, although in England and Wales it is not statutory.
Ms Elias, whose brother Richey Edwards went missing in a high-profile case in 1995, says getting a missing person declared dead is too complicated.
She told BBC Radio 4's Today programme: "There were no advisory organisations out there to help us to know what to expect.
"Our solicitor was very good but it was in fact the first time that he had done it. It was difficult enough for us, and for families who have wider issues to deal with, such as dissolving a marriage or dealing with joint assets, it's an even more difficult process."
The inquiry will examine whether a new system is needed for the national database of unidentified bodies - currently totalling 1,000 - to match these details with information about missing people.
Organised by the All Party Parliamentary Group on Runaway and Missing Children and Adults, it will be held over four sessions.