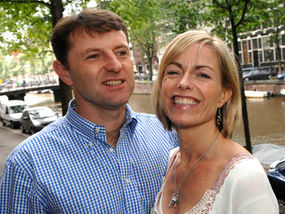 Kate and Gerry McCann ay they have new hope that she will be found
FOR once, grieving Kate McCann can find something to smile about. So often pictured as a sad, withdrawn figure, she and husband Gerry burst into laughter as they promoted her book about their lost daughter Madeleine.

The couple were in Amsterdam to launch the Dutch edition of the book which they hope will help to boost the search for Madeleine across Europe.
The heart-rending memoir has already topped the best-seller list in Britain and Australia, and hundreds of thousands of copies have flown off the shelves.
A spokesman for publishers Transworld said: ?We hope it will reach number one across Europe and that somebody with important information will read it and be moved to come forward.?

Copies have been snapped up in Portugal, where Madeleine, then three, went missing from a seaside resort on the Algarve during a family holiday in 2007. The McCanns, both 43, from Rothley, Leics, have been given a boost by the amount which the book has raised towards their fund to back the continuing search for their daughter.
They say they have new hope that she will be found after Scotland Yard agreed to review the investigation into her disappearance.