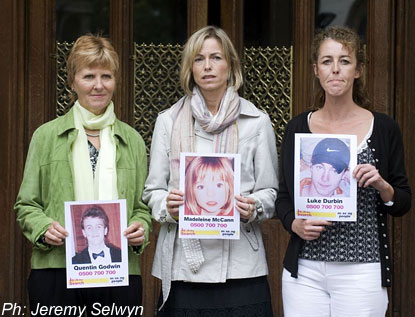 Appeal: Kate McCann, centre, with Sarah Goodwin, left, and Nikki Dubin, all holding pictures of their missing children
Kate McCann today appealed to ministers to provide more help for the families of missing loved ones.
Making an emotional statement on the steps of Parliament, Mrs McCann - whose daughter Madeleine disappeared from the family's holiday flat in the Algarve in 2007 - urged the Government to "demonstrate its commitment" to the issue by matching the support available to victims of crime.
"There is currently no legislation to protect missing people and their families left behind," Mrs McCann said. "If your house is burgled you are automatically offered victim support with emotional, practical and legal assistance. If your child goes missing you may get nothing."
Flanked by two other mothers of missing children, Nicki Durbin and Sarah Godwin, Mrs McCann spoke of the "unimaginable, unending heartbreak, confusion, guilt and worry" they had suffered.
She went on: "In addition to the reassurance that everything possible is being done to find their missing loved one, families need support. And they should be spared the additional pain of financial and legal bureaucracy."
Nicki Durbin's son Luke, 19, went missing after a night out in Ipswich, Suffolk, five years ago.
Sarah Godwin's son Quentin was 18 when he went missing in New Zealand while on his way to an after-school job in 1992.
Mrs McCann, 43, spoke out as the three mothers prepared to give evidence at the UK's first-ever parliamentary inquiry into the rights of families with missing people.
Labour MP Ann Coffey said the inquiry would look at what "emotional, practical and legal support" the families need to help them cope.
It will hear evidence from a number of affected families, including Peter Lawrence, father of missing York chef Claudia Lawrence, and Rachel Elias, the sister of missing Manic Street Preachers guitarist Richey Edwards.