Madeleine McCann's mother Kate has said she feels like the chances of her daughter being found are improving now Scotland Yard is involved in the case

Kate made an emotional plea for support from the government, not just for herself but for all the parents who have missing children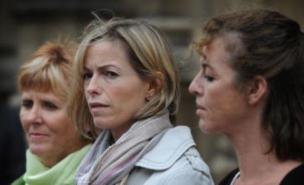 Kate McCann has said she feels the chances of her daughter Maddie being found are improving (PA)
Maddie went missing from a hotel room in the Algarve, Portugal while on a family holiday in 2007. Despite raising significant public support and hiring private detectives, her parents have never found her.
Asking the government to provide more support for families dealing with a missing child, Kate said: 'To be left in the dark when your child is missing and at risk is unbearable ... Many people have been worn down by this process because it's absolutely relentless and exhausting.'
However, she said she feels more positive about the possibility of Maddie being tracked after Scotland Yard was put on the case, saying she felt 'the chances of her being found are improving'.

The Daily Telegraph previously reported a team of 30 detectives could be put on the case, costing millions of pounds.
She was joined in her calls for help by the mother of Luke Durbin, who disappeared five years ago after a night out in Ipswich, and Sarah Godwin, whose son went missing on the way to work in New Zealand in 1992.