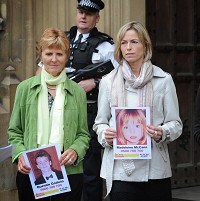 Kate McCann and other mothers of missing children outside the House of Commons
The chances of missing Madeleine McCann being found are improving after Scotland Yard was called in to review the investigation, the young girl's mother Kate has said.
Mrs McCann, whose daughter Madeleine went missing from her family's holiday flat in the Algarve shortly before her fourth birthday, said grieving families should not be left to search for their loved ones alone.
Calling for the Government to improve support, she said there was "currently no legislation to protect missing people and their families left behind".
Mrs McCann, 43, issued her appeal to Ministers as Scotland Yard continues its review of the investigation into her daughter's disappearance in Praia da Luz on May 3, 2007.
The official Portuguese inquiry was formally shelved in July 2008, although private detectives employed by the McCanns have continued the search.
"I don't think this should be the role of grieving parents," she said. But she added that now Scotland Yard was involved, "I feel the chances of her being found are improving".
The lack of support the McCanns received was compounded by a "lack of communication and information", she said.
Calling for a single point of contact between the families of missing people and the police, Mrs McCann added: "To be left in the dark when your child is missing and at risk is unbearable."
Human beings are not equipped to deal with such ordeals and more support is crucial if "families are to survive", she said. "Many people have been worn down by this process because it's absolutely relentless and exhausting."
Mrs McCann, with her voice shaking, was giving evidence to MPs holding an inquiry into the support available for the families of missing people.