Kate McCann and the mothers of other missing children have asked MPs to make more support available to families
Mrs McCann, whose daughter Madeleine went missing from her family's holiday flat in Portugal four years has spoken about the "unimaginable, unending heartbreak, confusion, guilt, and worry" when loved ones go missing.

She has called on the Government to improve support for families after speaking before the first parliamentary inquiry into the issue.

In a statement outside the House of Commons, Mrs McCann said relatives should be spared "the additional pain of financial and legal bureaucracy".

She said there was "currently no legislation to protect missing people and their families left behind".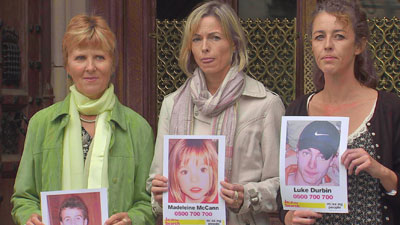 Sarah Godwin (L), Kate McCann and Nicki Durbin (R)
Holding a picture of Madeleine, she said: "If your house is burgled, you are automatically offered victim support with emotional, practical and legal assistance.
"If your child goes missing, you may get nothing.
"This parliamentary inquiry has the potential to change that."
The inquiry also heard from Sarah Godwin, whose son Quentin was 18 when he went missing in New Zealand in 1992, and Nicki Durbin, from Suffolk, whose son Luke disappeared in 2006, aged 19, following an evening at a nightclub in Ipswich.
Kate McCann told MPs she did not think it should be left to "grieving parents" to search for their child.
She added that this was compounded by a "lack of communication and information".
She recommended a single point of contact between the families of missing people and the police.
Ann Coffey, chairwoman of the All Party Parliamentary Group on Runaway and Missing Children and Adults, said the MPs were examining what emotional, practical and legal support those families need to help them cope at such a traumatic time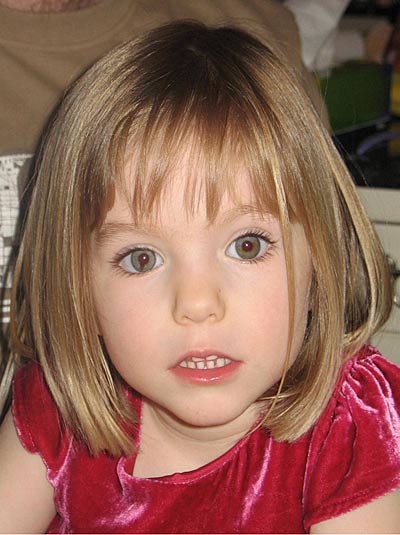 Madeleine McCann disappeared on the Algarve in 2007
Martin Houghton-Brown, chief executive of Missing People, said: "From dealing with finances, insurance policies, bank accounts and mortgages through to having a missing person declared presumed dead, families left behind often struggle to deal with institutions that have no system for their clients going missing.
"This inquiry is a landmark opportunity for parliamentarians to ensure that families are able to access the full range of support that they so desperately need."
Mrs McCann, 43, from Rothley, Leicestershire, will give evidence as Scotland Yard continues its review of the investigation into her daughter's disappearance in Praia da Luz on May 3, 2007.
The official Portuguese inquiry into the disappearance was formally shelved in July 2008, although private detectives employed by the McCanns have continued the search.
:: Anyone feeling emotionally distressed or suicidal can call the Samaritans for help on 08457 90 90 90.