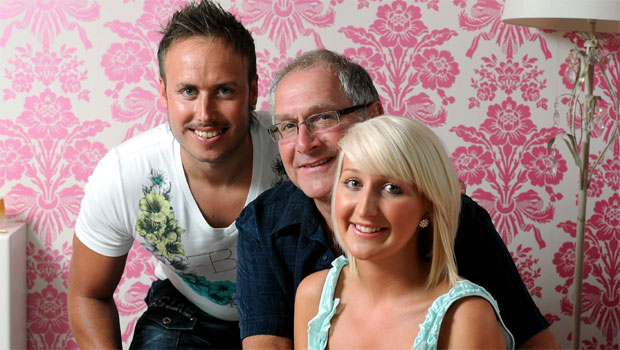 Natalie Hewitt with her dad, Paul Horrell and her husband, Liam Hewitt
THE proud dad of Welsh baby-snatch victim Natalie Horrell has fulfilled a vow he first made more than 20 years ago ' by giving her the wedding of her dreams.
On May 2, 1988, five-month-old Natalie was abducted by a bogus store detective from Littlewoods in Cardiff.
But after she was finally reunited with her parents, five nightmarish days later, overjoyed dad Paul made a promise he would one day treat her to a fairy tale wedding.
And that's just what he did when he helped Natalie and her sweetheart Liam Hewitt tie the knot recently in Dubai's plush Le Royal Meridian Hotel.
'It was incredible,' Paul, 54, from Caerphilly, told Wales on Sunday.
'But whatever it may sound like it wasn't the happiest day of my life. For a parent his daughter's wedding should be the happiest day of their life but it wasn't for me because 23 years ago when I got Natalie back was the happiest day of my life.'
His plan first took shape the year after the horrific abduction.
On a family holiday to DisneyWorld Florida, they visited Cinderella's Castle and it was there Paul made a promise to Natalie she could one day have a fairytale wedding.
'The wedding was the proudest day of my life,' he added. 'As much as it hurt giving Natalie away, this time it was for natural reasons and at the end of the day she was going to a man who loved her just as much as I did.
'I'm not ashamed to say I cried ' it was the moment I'd waited 23 years to see. It was a sight that at one terrible time I never thought I'd witness.'
Paul and his wife Maggie, now 55, were plunged into every parent's worst nightmare during a seemingly innocent shopping trip 23 years ago.
Maggie had been shopping in Cardiff on the May Bank Holiday with baby Natalie, the couple's son Kevin, three, and Maggie's daughter from a previous marriage, Louise, nine.
A woman claiming to be a store detective approached the mum of three, telling her there was a problem with her change and demanding she return to the store. The woman insisted she would look after the children while Maggie got on an escalator to see the manager.
Events took a sinister turn when the woman sent Louise after her mum and walked off with Natalie, who was in a pushchair.
By the time the alarm was raised, the mystery woman ' and Natalie ' were gone.
Police frantically scoured the entire country for any clues as to where she had been taken while her desperate parents sat helplessly wondering whether their youngest child was still alive.
As they came under the glare of the world's media, the couple were even subjected to cruel hoaxes ' with sick callers claiming to have snatched the baby, and one even claiming little Natalie was dead.
Then, after five days of mental torture for the couple, police received a tip-off from the ex-husband of a woman called Delia McCall.
Natalie was found with McCall safe and well 200 miles away in Lancashire.
The 44-year-old had wanted a baby to save her marriage.
After being tracked down she pleaded guilty to kidnapping and was eventually jailed for three years at Cardiff Crown Court.
In the intervening years the family have shunned the limelight and turned down lucrative interview offers, but eventually spoke out about their plight to offer their public support to the family of Madeleine McCann in 2008.
Meanwhile Paul, who worked four jobs to save up for the wedding, said the wedding day had been made extra special by the wonderful service offered by the hotel after he had told them Natalie's heartbreaking story. 'The hotel just made everything that much better ' they must have given us '35,000 worth of add-ons,' he said.
Natalie, who is studying for a PhD in chemistry at Cardiff University, said that for a long time she was unaware of the full horror that McCall had inflicted on her family.
'It only hit me a couple of years ago what they must have gone through when I was missing and I feel so guilty I never really appreciated that growing up,' she said.
'As far as I'm concerned I've lived a completely normal life because I was obviously too young to remember.
'Knowing what she put my mum and dad through though I find it impossible to forgive her. Thankfully our story has a happy ending and that's the important thing. It gives other people hope that miracles do happen.'